A Tale of Big Friendly Giants and Fierce Competitors at India's Region 2 Final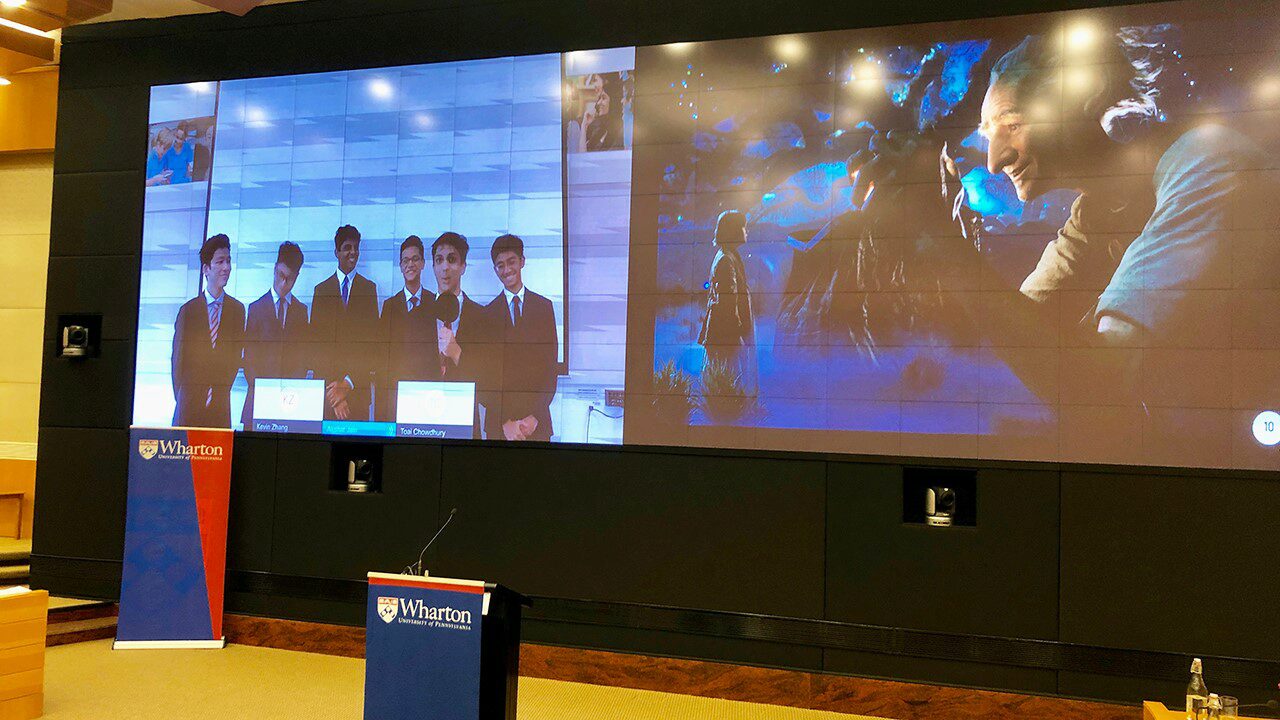 It was 8:30 a.m. on Saturday, February 22 at the Infosys Limited headquarters in Electronics City, Bangalore, India. While the walkways were clear for the weekend of the thousands of employees who regularly strolled the campus, the activity was frenetic around the N. Narayan Murthy building.
High school students from across India clustered in small groups on the back lawn, practicing presentations and encouraging teammates; Bhawna Bhardwaj, an educator from Amity International School, Vasundhara, talked excitedly on her cell phone; and students from Jayshree Periwal School in Jaipur, India, crowded around a table of judges while they sipped their morning coffee and enjoyed a hot breakfast.
"It's time!" announced Kisha Gupta, head of global academic relations at Infosys and the day's host in partnership with the Wharton Global Youth Program. Soon enough, the nearly 100 students, teachers, parents and executives filed into the high-tech R. N. Tata Hall and were greeted with these words: Welcome to the 2020 KWHS Investment Competition Region 2 Final!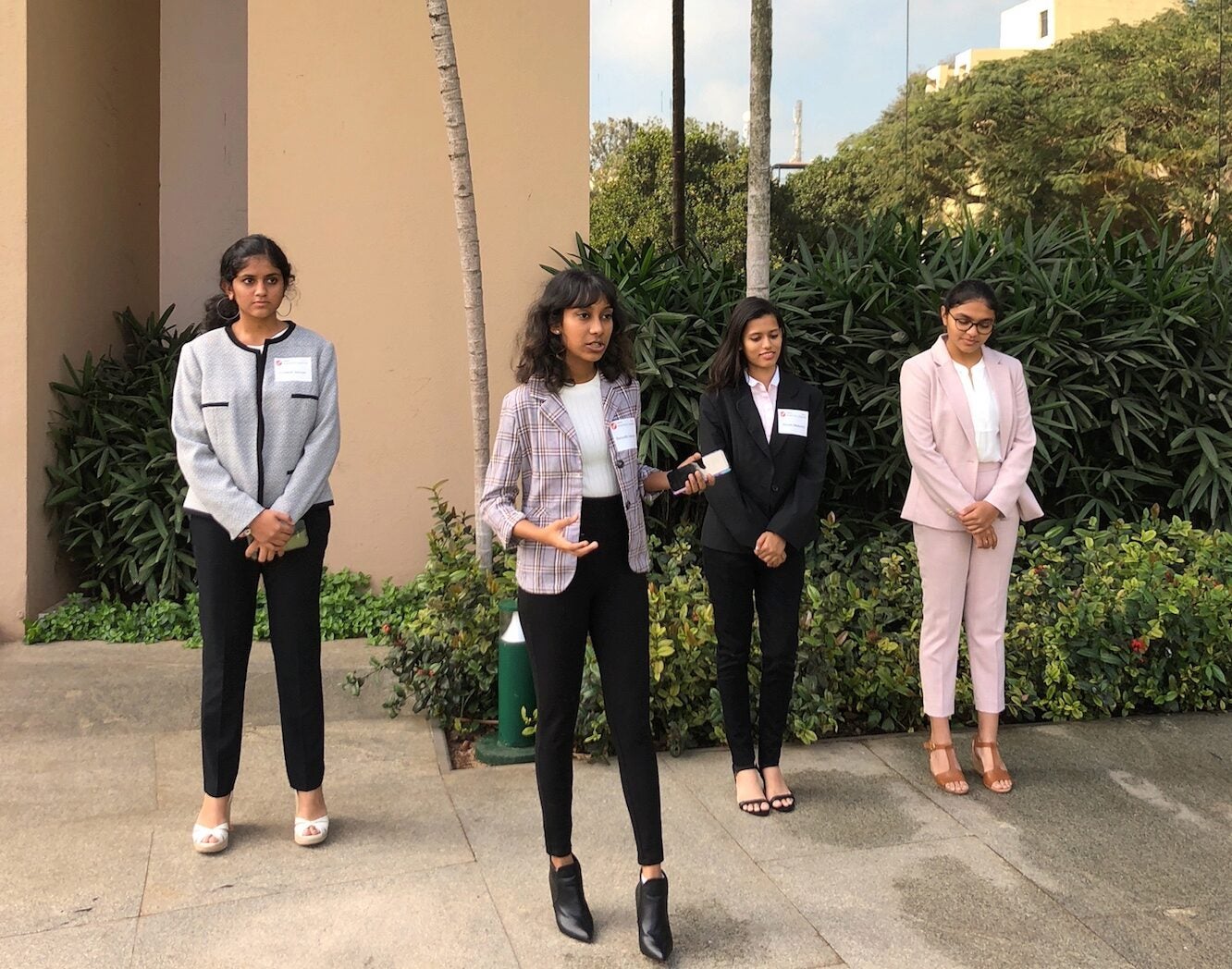 What unfolded over the next five hours was a showcase of incredible poise, knowledge and presentation prowess as the top 12 student teams from Region 2 – 11 from India and one from Singapore – presented the colorful details of their winning investment strategies and KWHS Investment Competition experiences to the room and a panel of five financial professionals. This year's judges included Shamita Chaterjee, senior vice president and global head of compensation and benefits at Infosys; Vivek Kulkarni, founder of Brickwork Ratings in Bangalore; Rajat Kumar, chief of staff of GirnarSoft; Rajesh Sehgal, founder and managing partner of Equanimity Investments in Mumbai; and Yatrik Vin, group chief financial officer of the National Stock Exchange of India in Mumbai.
"We believe each group has equally unique and valuable experiences." — Kevin Zhang, Team East Capital K
It was the culmination of 12 weeks of investment portfolio and strategy development, supported by teamwork, research, innovative thinking, Wharton resources, and teaching and motivation from team advisors and mentors. Presenters delivered insights on the requirements of their case study client, Reshma Sohoni, long-term and short-term investment goals, stock-selection strategies, asset allocation, portfolio values, global competitiveness, risk management and creative portfolio personalities. Overall team quality was incredibly strong. In the end, however, three Region 2 teams took home trophies.
The teams advancing to the Global Finale at Wharton in Philadelphia on May 8 and 9 to compete against the top three teams from the three other competition regions are:
East Capital K, United World College of South East Asia, Singapore
Scion Capital, Jayshree Periwal International School, Jaipur, India
Mavericks, Amity International School, Sector-46, Gurugram, India
East Capital K, which likened the U.S. stock market to Roald Dahl's Big Friendly Giant, created a client-focused top-down approach and identified industry leaders in sustainable practice as part of their approach. Scion Capital, working the chess analogy, created a PAWN score for Portfolio Analysis Weighted Numeric. The PAWN score assessed six different financial prospects of businesses in alignment with client Sohoni's interests. Mavericks, building on Sohoni's love of food, designed the NUTRITION strategy, which considered News, Undervalued stocks, Technical analysis, Responsible investments, Integrated analysis, Turbulence, Industry, Opportunity and Novelty in selecting stocks for their team portfolio.
The judges, who questioned each team for five minutes following their presentations, praised the students' level of knowledge and sophistication with new investing concepts and urged all of them to build on this foundation of teamwork and skills, regardless of the careers they pursue. Many of the teams like the MillenZees from Amity International School in Gurugram, also incorporated a financial literacy component into their competition journey, sharing their new knowledge and financial confidence with younger students and others throughout their community. That social mission, agreed the judges, was truly inspiring.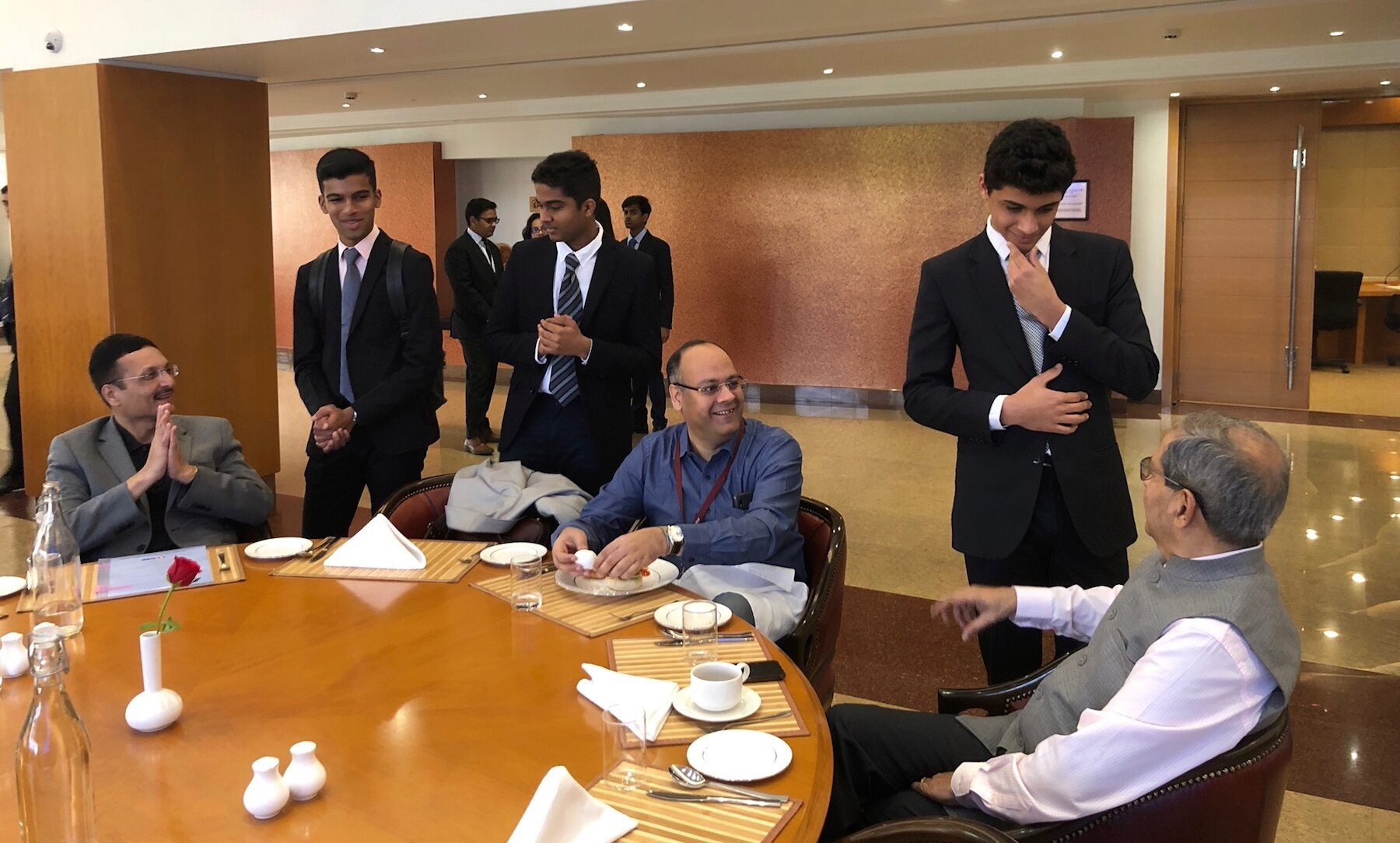 The announcement of the winners was met with cheers and tears – and lots of questions and reflections. "These past few months have truly been unforgettable," said Kevin Zhang, team leader of East Capital K, which was unable to travel to Bangalore due to the coronavirus outbreak, but presented virtually on February 22 over the Web X platform. They became the first virtual team to ever win a regional final. "My main takeaway isn't the amount of technical knowledge, formulas and models I've picked up, but rather, the skills in leadership and interaction that I've developed as a result of close collaboration, support, and sleepless nights with a wonderful team," added Zhang. "We went into this hoping for the best, but never expecting anything, and seeing the result today was a huge shock to all of us."
And while the top teams often win the glory, this year's Region 2 final represented countless vibrant stories of devotion, empowerment and challenging team dynamics. Take, for instance, CitD, or Chai in the Desert Investments. The truly international team included members form Saudi Arabia, India and Malaysia (hailing from South Korea). "We faced considerable challenges with respect to team dynamics due to the fact we spanned five of the 24 time zones," noted team leader Vikramaditya Singh.
As another successful Region 2 Final ended, observers commented on the commitment and creativity on display from all the teams. Said judge Kumar as he sat down in the deliberation room over lunch: "This is an incredibly difficult decision." Perhaps East Capital K's Zhang summed it up best: "As a team, we know that just because we won this time doesn't make us a better team than all the others. We believe each group has equally unique and valuable experiences. However, we are all ecstatic in knowing that our win today will extend our journey further, as we try to push on even harder for the Global Finals."
Be sure to read about the winners from the Region 4 Final in São Paulo on February 15, and we are preparing for the Region 3 Final, to be held on March 16 at Wharton in San Francisco. The Wharton Global Youth Program will see you in Philadelphia!