Wharton | San Francisco Hosts the First-annual Career Day Summit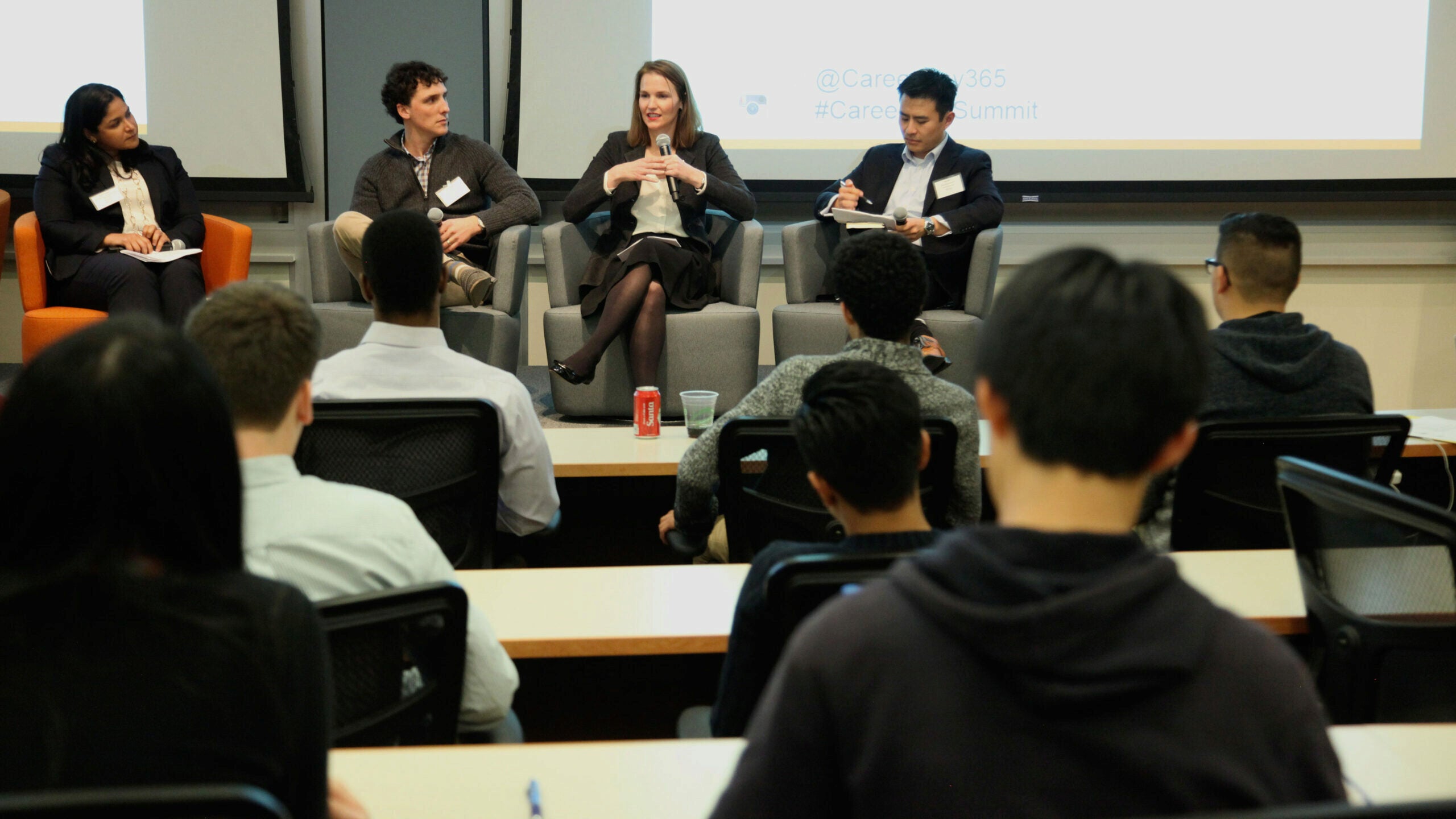 Jose De Jesus Murillo, 17, is no stranger to leadership opportunities. The high school senior, who hopes to head to Harvard in the fall, is president of his class at LPS Hayward Charter High School in Hayward, California.
And yet, Murillo understands that preparation for his future must extend beyond the four walls of LPS Hayward into the real world – among the professionals and in the places where he will someday apply the knowledge and skills that he is developing in school.
Last week, Career Day 365, a nonprofit founded by Wharton graduate Julian Baldwin that connects professionals with students for mentoring and career advisory, gave Murillo one of his richest exploration experiences to date. On January 7, Career Day 365, along with the Wharton Social Impact Club and the Making Waves College and Alumni Program, hosted the first-annual "Career Day Summit: Charting Your Course" at Wharton | San Francisco. Area high school and college student attendees heard from Wharton alumni about their careers, worked directly with mentors and coaches in areas of career prep, like résumé writing and interviewing, and, says Murillo, focused on "the skills and mindset that I need in order to give myself an even greater opportunity to be successful."
Students from California high schools like Tennyson, Encinal and McClymonds, as well as higher-ed participants from Sacramento State, University of Southern California and other area colleges, attended sessions on wealth management, business value creation, data analytics, entrepreneurship, high technology, media and communications, sales and marketing, and more. Panelists included Greg Vaisberg, corporate development director at Oracle; Chris Peck, event operations manager at Facebook; Deepna Nandiga, donor relations manager at the Clinton Health Access Initiative; and Kyle Bailey, senior software engineer at Uber Technologies – to name a few.
Murillo especially valued the chance to hear from professionals who work in areas related to finance and economics, which he plans to pursue. "The experience and insight that the multiple professionals brought to the event was valuable because they went deeper than any other source can provide about their field," notes Murillo. "I was also able to sit down and have a meal with J. Andrew Soares [professional services executive at Apttus]. He really communicated in a very honest and clear manner what his career was like and what it took to get a position like his."
As Murillo thinks about life after high school and anticipates a career that challenges him and pushes him "to think and analyze different patterns," he has some important takeaways from his Career Day Summit experience. "I need to learn how to code at least at a simple level, because it is apparently used very much in today's labor force," says Murillo. "Secondly, the amount of success that I will obtain is only limited by how far I am willing to work for it. And the last key takeaway was that I should always be open to change, because what I may like now might not be the same as what I will like in the future."
Physician and Career Day Summit mentor Angela Baldwin puts it a different way: "Be your best self in every area of life, and don't be afraid of detours."
To find out more about the event and Career Day 365, go to http://www.careerday365.com/index.php/eventpage/. Also, be sure to follow Knowledge@Wharton High School on Facebook (https://www.facebook.com/whartonhs/) and Twitter (@WhartonHS) for more sage advice from the Career Day Summit mentors.