Welcoming a Summer of Students and a New Era of Leadership and Growth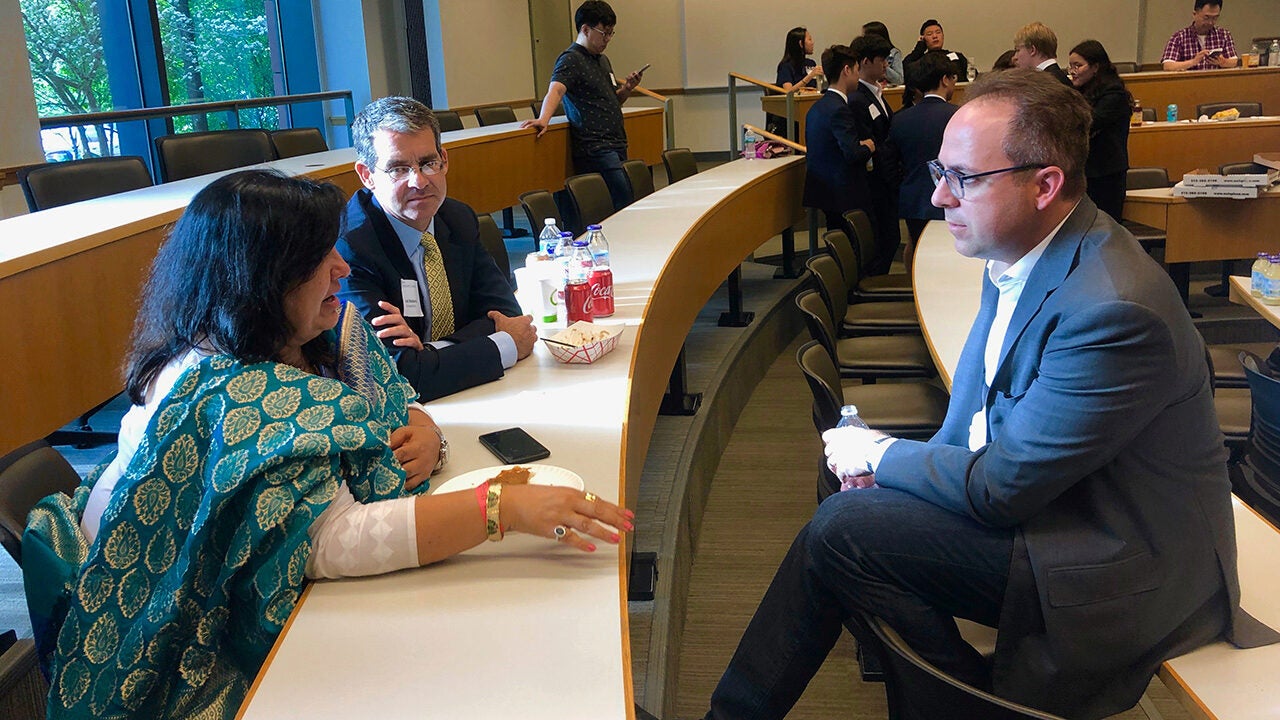 On June 8, Knowledge@Wharton High School welcomes the first group of high school students to our 2019 Global Young Leaders Academy (GYLA) at the Wharton School on the University of Pennsylvania campus in Philadelphia, U.S.
Session One, the inaugural group of eight open-enrollment GYLA classes this summer, includes 60 students (ages 15-18) from many different countries, including the U.S., India, China, Russia, Croatia, Italy, Japan and South Korea, all convening at Wharton for two weeks to study entrepreneurship, business and leadership. While their coursework is rigorous, students will also explore local history and fun destinations, network with other teens from around the globe, and experience life at a top Ivy League university.
For KWHS, summer officially arrives this week – and along with it, a new era.
The kickoff of this year's GYLA program, which has educated hundreds of high school students at Wharton since 2014, is noteworthy for a few reasons. First, GYLA 2019 will nearly double in size with five entrepreneurship-themed sessions and three new finance-themed sessions, running from June through early August.
And with that growth comes renewed leadership. On May 1, the KWHS team welcomed Eli Lesser, Wharton's new executive director of high school and summer programs, to help lead all our activities into the next phase of development.
With Lesser's arrival, Knowledge@Wharton High School is "graduating" from Knowledge@Wharton, where it launched and has been nurtured for the past eight years, to become part of Wharton Global Initiatives. In addition to managing GYLA and KWHS, Lesser is helping to orchestrate a strategic consolidation of all Wharton high school programs, including Leadership in the Business World and the Wharton Moneyball Academy.
Lesser began his career as a middle school and high school social studies teacher. After seven years in the classroom, he had a special opportunity to move to Penn and join the Annenberg Public Policy Center working on a high school curriculum associated with the Student Voices and Justice Talking programs, now all part of the Annenberg Classroom. Following that work, he left Penn for a couple of years to be director of education at the National Constitution Center in Philadelphia. For the past 10 years, his work at Penn has been on program development for high school students and in online courses.
The connective tissue in his professional life past and present, observes Lesser, is the chance to bring the voices of leading scholars and their research directly to secondary-school classrooms. "I'm very excited to be provided this opportunity to lead the high school programs at the Wharton School," he says. "As a person who started his career in the classroom, looking at the content, programming, and ideas generated by KWHS and its associated programs is like being a kid in a candy store."
"Teachers are far and away our greatest asset. I am excited to strengthen our direct investment into secondary-classroom teachers." — Eli Lesser
Building on the foundation of his own career, Lesser also considers educators to be a vital source of inspiration and potential as he works to advance KWHS and other high school initiatives. "Teachers are far and away our greatest asset. I am excited to strengthen our direct investment into secondary-classroom teachers," notes Lesser, who appreciates the many learning opportunities inherent in Wharton's faculty research, innovation centers and academic initiatives. "Educators are gateways to students. I know that if we grow resources like we have, teachers will shape and use them to engage students in ways that we cannot even imagine. I am looking forward to convening our first-ever Educator Advisory Board this summer and to building even more programs that directly engage teachers in a two-way conversation. We want to ask them how we can help them and encourage them to ask more and more of us."
A priority is to also increasingly engage students and educators worldwide, through content, competitions, summer programs, online courses and teacher training. This KWHS mission began through connections in the global K@W network and will continue within Wharton's broader community. "Wharton Global Initiatives, led by Vice Dean Serguei Netessine, is a remarkable collection of programs that now stretch from high school-age students through the MBA program and into Wharton Lifelong Learning," says Lesser. "Our summer programs currently attract students from more than 100 countries. Like Wharton students and alumni, we seek to cross national borders. We already have an investment competition representing three global regions and a news site that attracts hundreds of thousands of students from almost every country on earth. There is no better division within Wharton for high school programs."
These goals will also align with Dean Geoffrey Garrett's vision of Wharton, the world's No. 1 business school, as the global leader in analytics; entrepreneurship and innovation; and finance. The new GYLA-Finance summer program illustrates this focus. Says Lesser: "These three interdisciplinary academic pillars will serve as a guide for our work."
Lesser invites high school students, educators and others to reach out to Knowledge@Wharton High school with their feedback and suggestions. Email the KWHS team, and we promise to respond!