Philadelphia Students Meet Mayor Nutter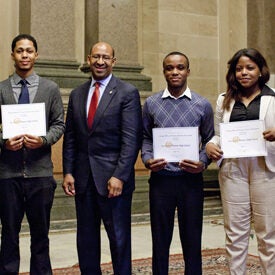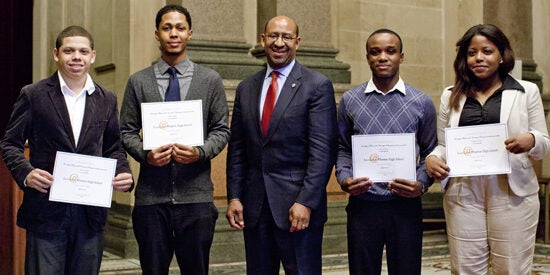 April, 2012
Four Philadelphia School district high school students attended a most unique after-school activity last week. Kevin Gonzalez, Vincent Carambo, Ivann Anderson and Kimberley Stennet, juniors at Bodine High School in Philadelphia, went to City Hall on April 18 to meet with Mayor Michael Nutter.
The students were the winners of the Philadelphia Entrepreneurship Challenge, a competition run by Knowledge@Wharton High School (KWHS), an initiative of the Wharton School at the University of Pennsylvania that promotes financial literacy, entrepreneurship and leadership among high school students and educators. For the challenge, teams of students were charged with creating products and strategies that encouraged students and teachers to use the KWHS website.
The winning Bodine group, known as VIKK's Dream Team, recruited thousands of new KWHS users through such innovative approaches as a video uploaded to Facebook featuring an original rap song; social media; networking with friends overseas; and high-profile publicity through NBC.com.
Mayor Nutter spoke at length with the students to learn more about their involvement in the Philadelphia Entrepreneurship Challenge and the strengths that each member brought to the team. He was impressed by their global strategy, and eager to learn more about their insights and interests, noting that all too often people focus on the negative in education, rather than positive stories of successful student engagement.
To learn more about Knowledge@Wharton High School, go to https://globalyouth.wharton.upenn.edu/