Student Investors Compete and Win, with a 'Common Desire for Knowledge and Teamwork'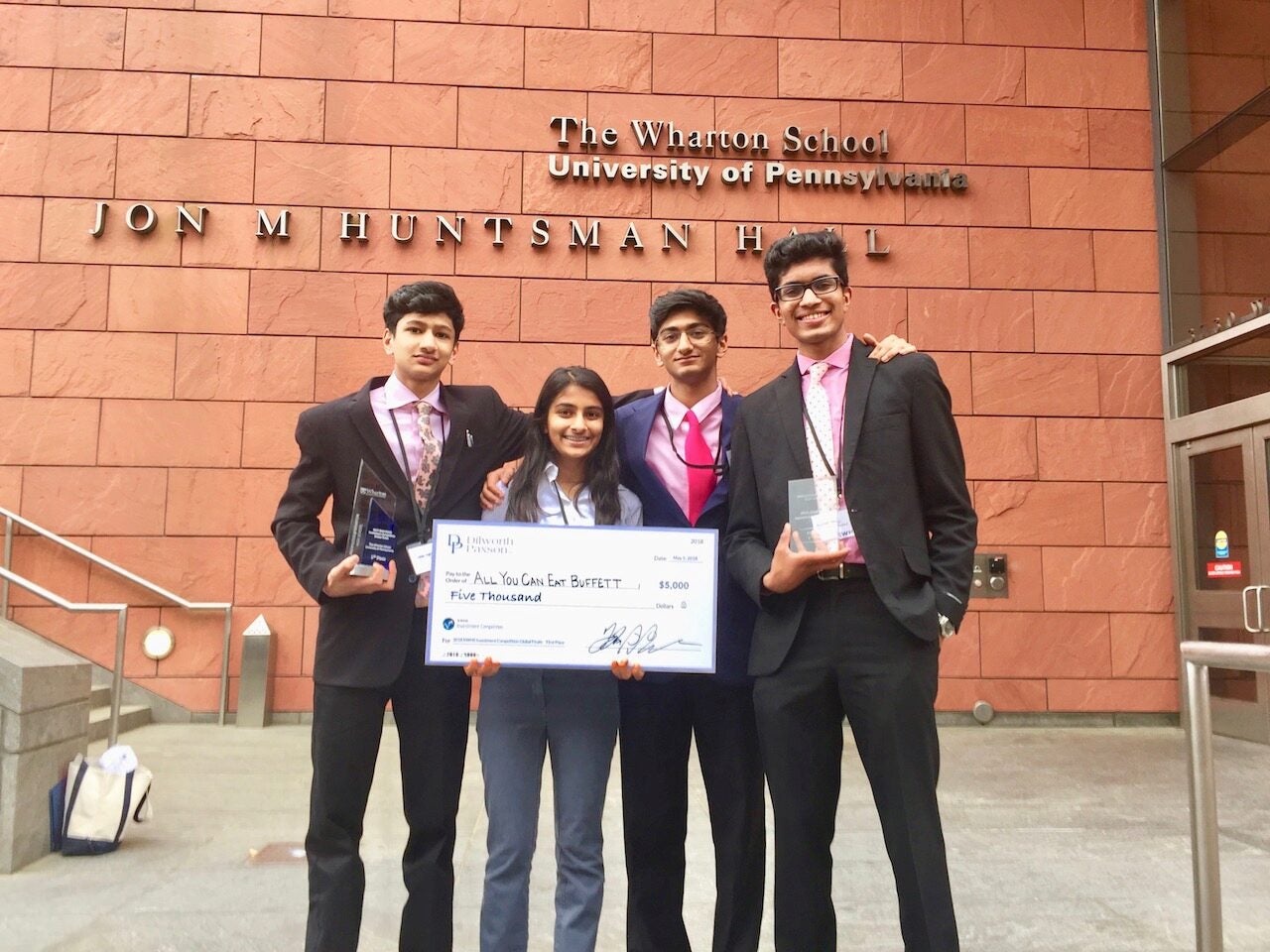 On Saturday, May 5, 2018, more than 100 high school students, along with their families, advisors and mentors, traveled from around the world to Wharton's Philadelphia campus to participate in the 2018 KWHS Investment Competition Global Finale.
They were all soon reminded of another journey, the one that brought them to that moment on the 8th floor of Wharton's Jon M. Huntsman Hall. Ten weeks of team trading, deliberating and strategizing, resulting in the submission of 300 final investment reports. Two regional finals in India and China, providing the top six teams from those countries the opportunity to travel to the Global Finale and compete against students from Brazil, Canada, Denmark, Malaysia, Norway, the United Kingdom and the United States — 18 top teams, all prepared on May 5 to give the 10-minute presentations of their lives. They would go in front of a panel of six industry experts, several representing the day's sponsors – Aberdeen Standard Investments, Dechert LLP, Dilworth Paxson LLP, Finclusive Capital, Principle Quest Foundation and UBS — in hopes of winning the title as the competition's most savvy, reliable and creative asset-management team. The full lineup of Saturday's competitors included:
All You Can Eat Buffett, Virginia, United States
ALPHA, Sevenoaks School, Sevenoaks, Kent, United Kingdom
Brazilian Bulls, Colégio Santa Cruz, São Paulo, Brazil
Charlottesville High School Student Investment Group, Charlottesville High School, Virginia, United States
Dollar Tiger$, Germantown Friends School, Philadelphia, Pa., United States
Longer-Term Capital Management, Monta Vista High School, Cupertino, Calif., United States
Maple Eagle, York Mills Collegiate Institute, Toronto, Ontario, Canada
Medici Capital, Lovejoy High School, Lucas, Texas, United States
Oakridge Investment Enterprises, Oak Ridge High School, El Dorado, Calif., United States
Pied Piper Investments, Amity International School, Noida, India
Pine Stone Capital Management, Beijing RDFZ, The High School Affiliated to Renmin University, Beijing, China
RDFZ ICC, Beijing RDFZ, The High School Affiliated to Renmin University, Beijing, China
Saints Capital, Vancouver, British Columbia, Canada
Scion Capital, Jayshree Periwal International School, Jaipur, India
The Alchemy of Investments, Amity International School, Noida, India
United World Capital, United World College RCN, Norway
Vancity Capital Management, Canada
War Wolves, Beijing Academy, Beijing, China
It was a journey with an inspirational destination. Following 18 thought-provoking team presentations, Saturday's judging panel selected six top teams – three winners from the top 12 teams in Region 3 and three global winners from among the full scope of competitors. Regional winners received trophies and global winners received trophies and $5,000, $2,000 and $1,000 respectively for their schools from Dilworth Paxson law firm in Philadelphia. Here are the results:
1st Place, Region 3: All You Can Eat Buffett
2nd Place, Region 3: Medici Capital
3rd Place, Region 3: ALPHA
1st Place, Global: All You Can Eat Buffett
2nd Place, Global: The Alchemy of Investments
3rd Place, Global: Scion Capital
Algorithms, Analysis and Alchemy
Each PowerPoint or Prezi-supported presentation, delivered by four to nine students, communicated the group's unique investment strategy, as well as summarizing its competition experience, takeaways and team dynamics. In the allotted time of 10 minutes to present and five minutes for questions from the judges, students articulated their tactics and tools, incorporating details about proprietary algorithms, top-down, bottom-up analyses, risk attenuation and yield capitalization, qualitative and quantitative approaches to stock selection, Porter's Five Forces and SWOT evaluations, and more — all guided by a long-term, client-focused mindset.
The day's winners were especially strong on content and creativity, punctuated by strategy pitches that dazzled the judges on a professional level.
Take, for instance, All You Can Eat Buffett, whose unique team investment strategy included a self-created machine learning-based natural language processing algorithm that used news outlet information to predict stock market trends. The team's multi-layered presentation incorporated humor and even the results of a direct outreach to competition client Jack Abraham. The Alchemy of Investments delivered a sharp, enthusiastic and engaging presentation articulating with color and confidence its ALCHEMACRO model that reviewed economies using macro-level factors. Alchemy advisor Manvir Singh Rana, who has guided many top teams in the competition, including this year's Pied Piper Investments, said that he is more than a teacher to his students, he is "an awakener." Scion Capital communicated a strong client-first philosophy and brought in its team leader, Mohammad Darvish, at the end via video conference for a compelling Q&A with judges. Darvish, an Iranian citizen, was unable to secure a visa to travel to the U.S. for the competition finals.
This competition has been a great learning experience, indeed a roller coaster ride, reflected Jahnvi Vig, student team leader and chief investment officer for India's The Alchemy of Investments. "It was the first of November when our trading journey began and we started to explore the world of finance, until the fourth of May, when we got to meet brilliant brains from all around the world and learned the skill of negotiation [from Wharton professor Maurice Schweitzer]," she explained. Vig was one of more than 100 students who also attended the KWHS Investment Competition Learning Day on Friday, May 4, for an afternoon of speakers sharing insights on business, University of Pennsylvania admissions, and careers in asset management. "We have come out to be a group of seven confident and engaging students who have the power to tackle all obstacles that come our way."
While the teams' exploration of new knowledge and financial concepts was, at times, challenging, it was nothing compared to the task laid out before the Global Finale judging panel – to select winners from among a passionate room filled with imposing young minds and hearts.
Following the presentations, the judges – including Saras Agarwal, chief journey owner at Vanguard; Iain Gillespie, corporate strategy manager for the Americas at Aberdeen Standard Investments; David Lawrence, founder of RANE and long-time managing director at Goldman Sachs; Mukund Rao, financial products architect at Wharton Research Data Services; John Squires, partner at Dilworth Paxson law firm; and Scott Stimpfel, a director at Citi who was instrumental in starting the KWHS Investment Competition in 2012 — offered a few thoughts on the day.
"In a world where divisiveness, tribalism and rancor seem to rule, today was very much a reminder of what holds us together, and that there is a common culture — a common desire for knowledge, information and teamwork," said Lawrence, who urged students to always remain humble and to remember that there are no stop-gap measures in life, but only a genuine need to absorb the volatility in the stock market as well as in interpersonal relationships, and to learn from them both. "Each and every team that participated here in this room or remotely was exceptional. I can say that after being at Goldman Sachs for more than 20 years."
Added Agarwal, a Wharton MBA: "I'm impressed by the thoughtfulness that you bring to what you've done here. Clearly there's a lot of effort. As you think about your careers going forward, have the courage in your convictions. Be purposeful in what you're doing and be confident as you make decisions."
"Chris Demetriou, Aberdeen Standard Investments' CEO who was speaking here this morning, came right over to me and assured me that my job was definitely under threat in the next year or two," quipped Gillespie, alluding to the students' talent and out-of-the-box thinking.
Tackling Financial Illiteracy
The importance of financial knowledge is a key message of the KWHS Investment Competition, as well as the broader Knowledge@Wharton High School initiative, which promotes business literacy and financial literacy globally among high school students and educators through content, competitions and seminars. Financial education and access emerged as a theme that shaped the tone of Saturday's event.
Drawing comparisons to his firm's work related to racial inequality and the landmark Brown v. Board of Education school segregation case, Squires suggested that financial illiteracy is the separate-but-not-equal and disparate impact that is befalling today's global citizenry. "In the U.S. alone, 40 million people are underbanked or unbanked, and 2.5 to 3.5 billion people globally," noted Squires, who began his career as chief IP counsel for Goldman Sachs and today is considered one of the world's thought leaders in fintech, block chain, cybersecurity and risk. "As a firm and on behalf of one of our sponsors FinClusive, we are taking that to task, tackling financial illiteracy head-on and working with Knowledge@Wharton and KWHS to remove that as an issue. Financial access should be a basic human right. And with all the good works you've done here today, I think that you've experienced that. Be ambassadors for the knowledge that you've gained."
Many investment competition teams have already started doing just that. Pied Piper Investments of Noida, India, for example, spreads financial literacy through its Piper Press newsletter, while neighboring team The Alchemy of Investments conducts community outreach on financial education through in-class visits and even a TED Talk on personal finance skills. Countless teams involved in the competition, both finalists and otherwise, have started investment clubs in their schools to develop their passion for investing and promote financial engagement and knowledge among their peers.
Sid Muralidhar, team leader of regional and global winning team All You Can Eat Buffett, counted a focus on financial literacy among his most valuable takeaways from his KWHS Investment Competition Global Finale experience. "We met and befriended some extremely talented students from across the world – from a team in our home state of Virginia, to a team in Norway, and teams in India and China – and were very proud to be amongst them as finalists," noted Muralidhar, who is a senior at Thomas Jefferson High School for Science and Technology in Great Falls. "We learned a lot from these teams, not just about different financial techniques and concepts, but also about being active participants in our community to further the goal of financial literacy. Hopefully, these connections and friendships will lead to some form of collaboration in the future to ensure that individuals can save, achieve their goals, and retire safely. We will continue to share information gleaned through our own research and experiences to others. In fact, we have already offered to help Wharton's alumni outreach in Brazil take our experience to help students from Brazil participate in this competition – hopefully, they become the agents for change in their country."
Muralidhar added that the KWHS Investment Competition was instrumental in teaching him the power of teamwork in a secondary-education world that often advocates individual success. "Each member of our team was assigned a specific role, but more importantly, we had to find ways to support one another and compromise when we had disagreements. Each member brought a unique perspective and skill set to the table. Today, students are under pressure to outperform their peers to be admitted to college, but this competition taught us that everyone that is a team player, and shares and learns, is a winner."