Steppingstone Scholars Study Personal Finance at Wharton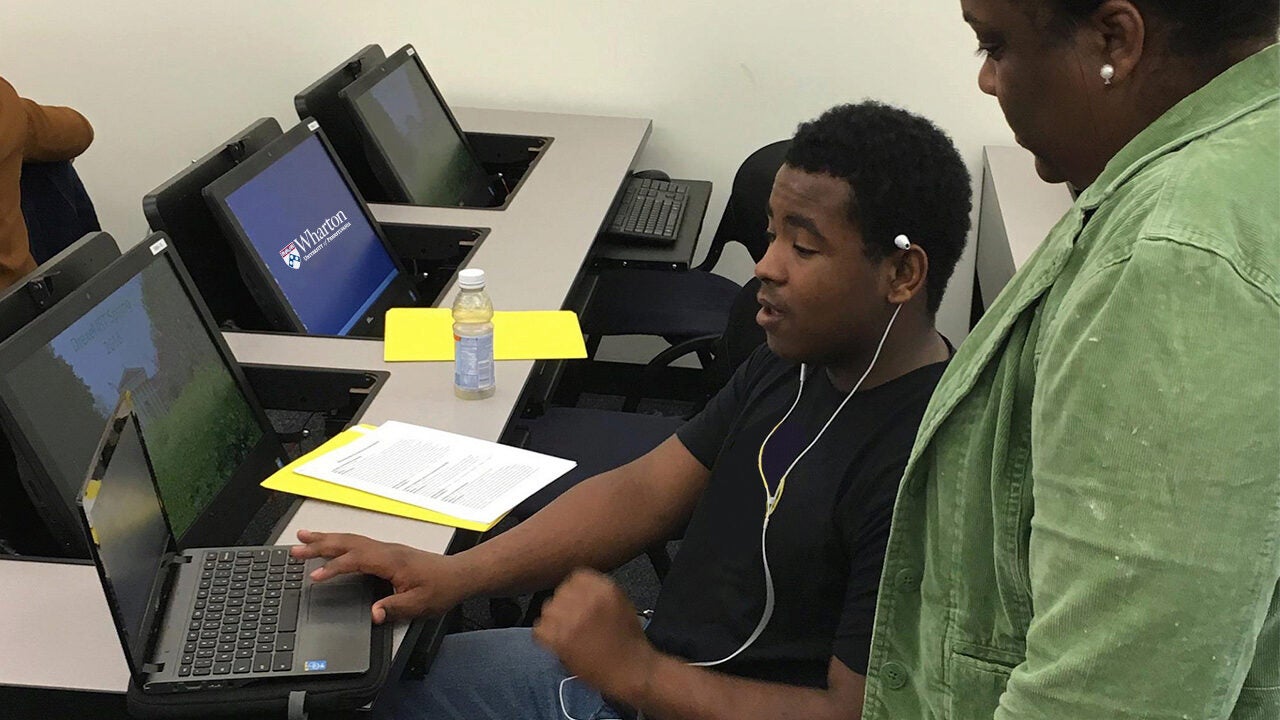 It's 5:00 p.m. Eastern on a recent Monday afternoon and several Philadelphia high school students are hanging out on Zoom – to talk about money.
As participants in an introductory finance course for high school students offered by the Wharton School, they start out sharing with their instructor what they hope to learn during the course.
Derek, a junior from George Washington Carver High School of Engineering and Science, says, "I want to learn about how to invest my money." Daija from Friends' Central School adds, "I'm interested in the stock market." Samson, a senior at Central High School, chimes in with, "I want to get better at budgeting and learning to save more."
A Local Partnership
These teenagers are part of Steppingstone Scholars, an organization that connects low-income Philadelphia students with a series of academic enrichment activities throughout their middle and high school years.
Their latest learning opportunity: participating in the development of a course that will become part of the new Wharton Pre-Baccalaureate Program Introduction to Personal Finance class, where students are exploring everything from income taxes and financial decision-making, to funding their higher education. The course ends with a project evaluating their actual student loan offers.
In January, the Wharton Global Youth Program at the Wharton School, University of Pennsylvania, launched its Pre-Baccalaureate program, an academically intensive dual-enrollment opportunity for high school juniors and seniors to enroll in Wharton online courses.
Wharton Global Youth Program reached out to Steppingstone Scholars to find a group of local high school students willing to test drive portions of the Pre-Bacc Personal Finance course, which was being developed with Wharton's Stevens Center for Innovation in Finance. Faculty members David Musto and Nikolai Roussanov helped design the curriculum, and five of their finance MBA students taught the course.
Very quickly, Steppingstone and Wharton formed a collaboration, with about a dozen high school students signing on for the non-credit personal finance pilot. The class met every Monday and Wednesday throughout April, which also happened to be Financial Literacy Month in the U.S.
"The Personal Finance course was a good fit for Steppingstone students because many have expressed an interest in pursuing careers in business and finance," says Stephanie Joy Tisdale, director of Steppingstone Academy. "Aside from this, the course features important aspects of financial literacy, which are valuable for young adults as they prepare for life after high school. Students were able to access tools that they can apply to everyday life and use to help them make real-world decisions in the future."
Dom Daniels, Steppingstone's dual enrollment coordinator, organized online support sessions for students every week while they were taking the course, hosted by a Temple University work-study student.
Student Input
Ultimately, Wharton sharpened a new course with input from local students, and the Stevens Center was able to collect valuable feedback for ongoing research about how high school students evaluate student-loan risk.
"The students taking the class walked us through how they compared their financial-aid offers, and also how they searched for additional support," notes Musto, whose Stevens Center colleagues and MBAs are in the process of designing an app to help students think through borrowing decisions. "The students had made great use of the tools they were given, but there were no tools to help them negotiate the territory between not borrowing at all for college and borrowing as much as possible. The experience taught us the value of developing this tool together with high school students, and we are continuing the effort into the summer and fall."
The Steppingstone scholars who completed the course earned a certificate from the Wharton Global Youth Program – and practical skills to improve their financial decision-making. "The session where we learned about credit was the best one for me," notes one Intro to Personal Finance graduate. "I recently turned 18, and I've been wondering how to increase my credit."