Social Media Entrepreneurship Competition: KWHS Looks to Philly High School Students for Solutions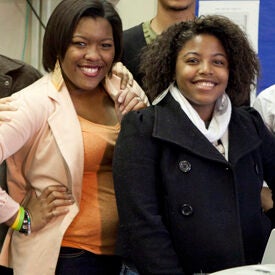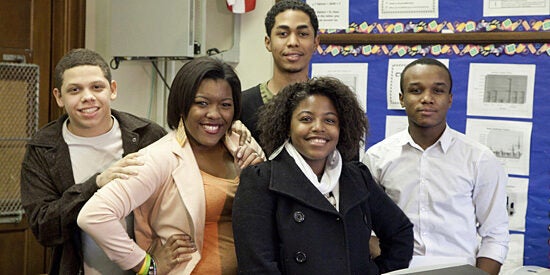 The Wharton School's Knowledge@Wharton High School (KWHS) hosted its first-ever Social Media Entrepreneurship Competition for Philadelphia School District high school students in December and January.
The mission of KWHS, a member of the Knowledge@Wharton global network, is to promote global financial literacy, entrepreneurship and leadership among high school students and educators by providing free innovative educational content. KWHS has a dilemma and turned to Philadelphia high school students for a solution. The challenge: KWHS needs help spreading the word about its free resources to students and teachers.
"We could have pursued the traditional path and hired a marketing company. However, teachers and students often tell us that they want more opportunities to develop leadership and teamwork skills," says Diana Drake, editor of KWHS.
KWHS looked to draw upon the entrepreneurial spirit and creativity of Philadelphia high school students to spread the word about its website and free resources to as many high school students and educators as possible. Students who participated in the competition designed and implemented social media strategies to accomplish the goal of informing others about the value of the KWHS site. "Students often read about the best practices of entrepreneurship, teamwork and leadership. We wanted to provide students with an opportunity to apply their knowledge and to gain a deeper understanding of these critical skills," says Scott Stimpfel, KWHS director of educational initiatives.
The competition involved 83 teams of about 200 students from 12 high schools across the Philadelphia School District. Schools implemented the competition in very different ways, but were all extremely successful.
Aaron Greberman, a business teacher at Bodine High School of International Affairs, presented the competition idea to his students and they took the initiative to pursue the opportunity on their own. Greberman notes that the students' competitiveness and the premise of the competition motivated them to participate. "At first, I was not going to do it. Then I went on the website and I was like, 'This offers not only stuff for my mom, but for the teachers,' and I thought it would be a great opportunity," says Kimberly Stennet, a junior at Bodine High School of International Affairs.
Bodine students were the most successful at spreading the word about KWHS. They developed successful strategies that attracted both students and adults to the website. The students' networking resulted in hundreds of new KWHS signups. Ivann Anderson, a junior at Bodine, says, "I got all my teammates, their parents, my coaches and Facebook friends" to sign up.  Through the competition process, the students learned the value of a strong social network. Vincent Carambo, a junior at Bodine, says he learned that it is very important "to be able to use your connections."
At Philadelphia High School for Business and Technology, students in select computer science and business classes earned extra credit by joining the competition, although other students within the school also took part. Through the competition, teachers discovered Knowledge@Wharton High School's dynamic articles, lesson plans and other resources—all free. "I'll actually be using some of your materials in the future because you have a wealth of information," says Eric Weissmann, computer science teacher at Philadelphia High School for Business and Technology.
Winning teams from each high school are invited to participate in a Leadership Day this February at the Wharton School. The Leadership Day will provide the competition winners with the opportunity to further develop and explore their business skills. Wharton students and KWHS team members will lead students in interactive leadership activities, team-building exercises and business challenges throughout the morning, followed by a luncheon where winners can network with each other, Wharton Ambassadors, Knowledge@Wharton High School team members and University of Pennsylvania officials. After lunch, students will listen to informative presentations from various Wharton organizations and Penn's admissions staff.