School District of Philadelphia Selected to Join Knowledge@Wharton High School Global Leaders Network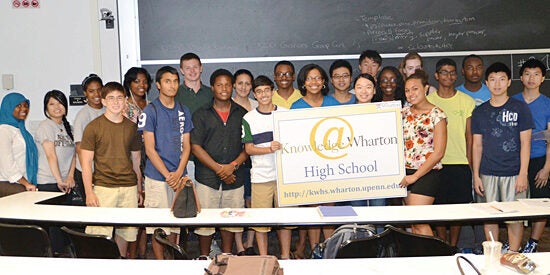 Philadelphia, PA – November, 2011— The Wharton School of the University of Pennsylvania announces that the School District of Philadelphia has accepted an invitation to become the first member of Knowledge@Wharton High School's (KWHS) Global Leaders Network.  Knowledge@Wharton High School is the newest addition to the Knowledge@Wharton network, a portfolio of online journals offering business analysis and research to a global audience of 1.7 million in 189 countries.
The KWHS Global Leaders Network is an exciting new online platform for school districts that are committed to enhancing leadership, entrepreneurship and financial literacy opportunities for students and educators.  Member high schools receive exclusive access to resources and opportunities for educators and students who want to explore and pursue their business, entrepreneurship and leadership interests both inside and outside the classroom. The KWHS Global Leaders Network gives educators and students the freedom to decide how best to use its resources to enhance teaching and learning.
"We are excited to welcome the School District of Philadelphia to the Global Leaders Network.  As members of the Network, Philadelphia high school teachers and students will have a unique opportunity to not only explore their business interests, but also to shape both the local and global conversation on business, leadership and entrepreneurship," says Scott Stimpfel, KWHS Director of Educational Initiatives.
As a member of the KWHS Global Leaders Network, Philadelphia high school teachers will be able to actively engage in online discussion forums with industry experts on topics from entrepreneurship to leadership to business.  Teachers will also gain access to hundreds of interesting articles on a variety of subjects that have been written specifically for high school students.  A number of the articles feature current Philadelphia high school students and alumni.  In addition, teachers will have access to more than 400 business lesson plans that were developed in collaboration between educators and Philadelphia high school students this summer during the KWHS Business, Entrepreneurship & Leadership program.
"We want to provide our teachers with the best resources, so they can help prepare our students to be leaders in the global economy.  The Global Leaders Network opens the doors to a whole new world of global business, leadership and entrepreneurship for our students," says Leroy Nunery, Acting Superintendent for the Philadelphia School District.
Philadelphia high school students will also receive access to a number of educational resources as a result of the School District of Philadelphia becoming a member of the Global Leaders Network.  Students will be able to participate in unique learning challenges and competitions that will help them develop their leadership, teamwork and entrepreneurial skills.  The first competition will be the Social Media Entrepreneurship Challenge where students will create and implement a social media strategy for Knowledge@Wharton High School.
"Knowledge@Wharton High School provides students with the opportunity to not only read about the best practices of entrepreneurship, teamwork and leadership, but also to practice these skills that are valued by today's employers,"  says Chris Johnson, Principal of Benjamin Franklin High School.
Through the Global Leaders Network, students will be able to explore their interests and build upon their knowledge by reading hundreds of articles, watching videotaped glossary terms and playing online business games.  Students can also join the conversation on global business and entrepreneurship issues through online discussion forums with students from around the world.
"I participated in the KWHS Business, Leadership & Entrepreneurship summer program and it inspired me to think outside of Philadelphia.  With resources from the KWHS Global Leaders Network, I can be a leader locally and globally," says Ramon Guzman, Senior Class President of Central High School.
About the Wharton School and Knowledge@Wharton
The Wharton School of the University of Pennsylvania — founded in 1881 as the first collegiate business school — is recognized globally for intellectual leadership and ongoing innovation across every major discipline of business education. The most comprehensive source of business knowledge in the world, Wharton bridges research and practice through its broad engagement with the global business community. The School has 5,000 undergraduate, MBA, executive MBA, and doctoral students; more than 9,000 annual participants in executive education programs; and an alumni network of 88,000 graduates.
Knowledge@Wharton is a free biweekly online resource that captures knowledge generated at the Wharton School and beyond through such channels as research papers, conferences, speakers, books, and interviews with faculty and other business experts on current business topics. For more information:  http://knowledge.wharton.upenn.edu.
Contact:
Diana Drake
drake.kwhs@gmail.com