The First KWHS Investment Competition Learning Day Inspires Students from Around the World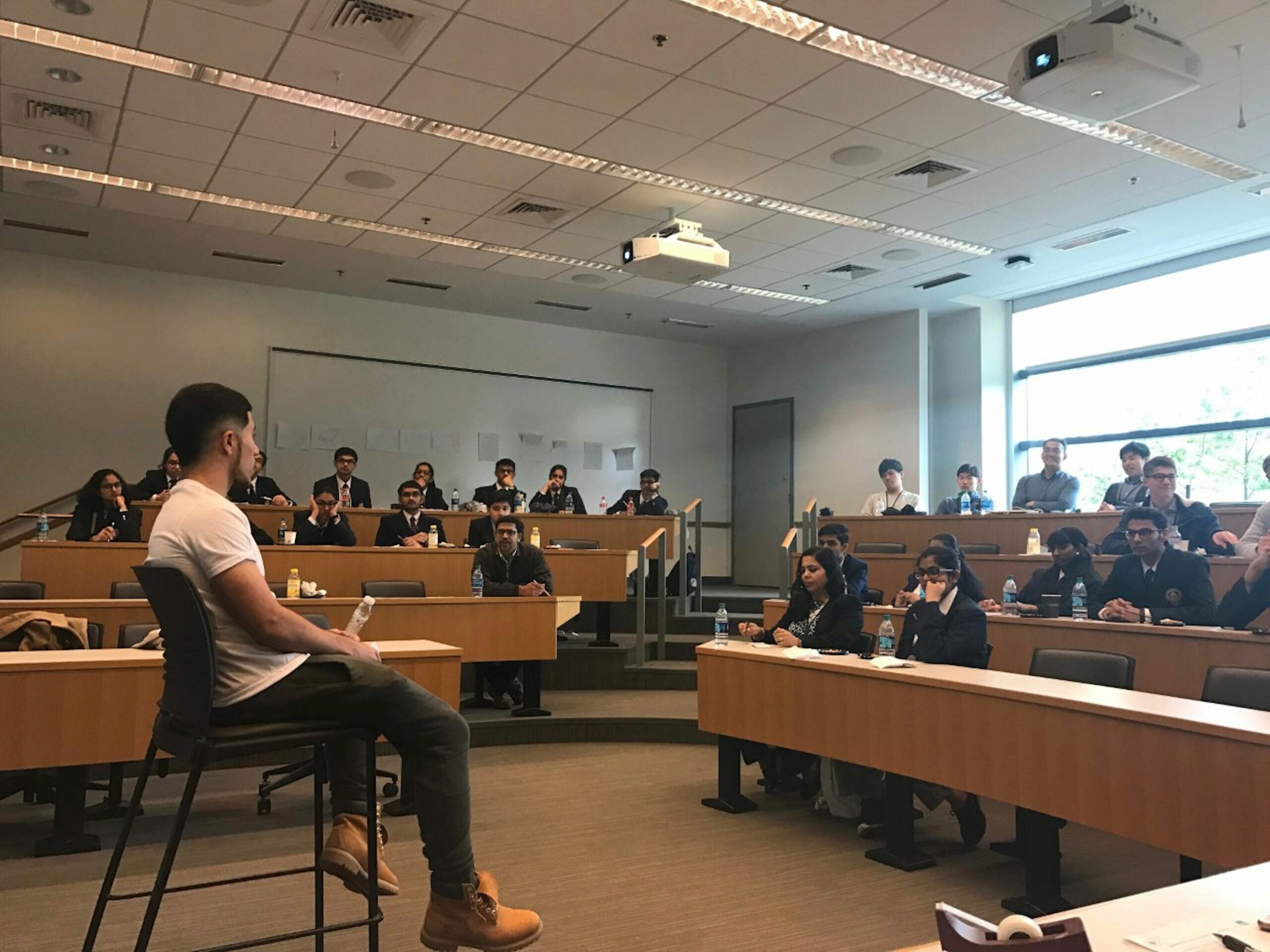 It was an idea whose time had come. The explosive growth of the Knowledge@Wharton High School (KWHS) Investment Competition in the past few years had resulted in teams of high school students and advisors traveling to Wharton's Philadelphia campus from around the globe each spring to participate in a one-day global finale. The 2017 top 15 teams, for example, represented high schools in India, South Korea, Norway and Brazil – not to mention several U.S. states, such as California, Virginia, Florida and Massachusetts.
With the KWHS Investment Competition Global Finale planned for May 6, 2017, KWHS decided to organize a separate half-day of learning to extend and enhance the competition finale experience for all the participants. On Friday, May 5, KWHS held its first Learning Day for a group of 60 largely international Global Finale competitors.
"It was a great event to be part of," says Christopher J. Strivieri, senior vice president of AXA Advisors in Newtown and Bala Cynwyd, Pa., who traveled to the Wharton campus on Friday to welcome Learning Day participants. AXA, a global financial-services company providing insurance, investment management and other services, sponsored this year's inaugural KWHS Investment Competition Global Finale Learning Day. "The energy in the room and the desire to learn from each other were amazing," adds Strivieri. "On behalf of AXA and our foundation, we are proud that we were able to sponsor the day of learning."
During the full afternoon of activities, students, educators and parents gained insight on financial literacy from AXA; explored Wharton admissions with Teran Tadal, associate director of the Wharton Undergraduate Division at the University of Pennsylvania; toured the campus with guide and program director Effie Zhou; created and reflected on their own images of leadership during a session taught by KWHS managing editor Diana Drake; discussed campus life with rising University of Pennsylvania junior Anthony Williams; and experienced a moving talk by Wharton undergrad Kayvon Asemani, a rising hip-hop star and entrepreneur. The day wrapped with festive pizza and networking, providing students the opportunity to get to know their fellow competitors.
"The value we've gained from this is truly priceless," says Aneesh Shinkre, a member of Team Sona from Allen D. Nease High School in Florida, who attended both Friday's Learning Day and Saturday's Finale. "We were able to network with so many brilliant minds."
KWHS's Diana Drake considers the first Investment Competition Learning Day, sponsored by AXA, a worthwhile extension of the Global Finale experience. "The core mission of our competition is the development of new perspectives and skills, including financial literacy, communications, teamwork, leadership and entrepreneurial thinking," says Drake. "Our Learning Day delivered all this and more, as well as exposing students to the life and culture of an Ivy League university. And everyone loved Kayvon!"
Many students and advisors remarked that they would travel home from Wharton with new knowledge, inspiration and motivation to share with their families and friends. AXA's Strivieri left them with this thought: "Never regret a day in your life; good days give happiness, bad days give experience, worst days give lessons and best days give memories."
For more information on the KWHS Investment Competition, please visit the KWHS Competitions page or email us at KWHSCompetition@wharton.upenn.edu. Be sure to follow us on Twitter @WhartonHS and check out our KWHS Facebook page for many more photos and student reflections from this year's 2017 KWHS Investment Competition Finale. Explore all of Knowledge@Wharton High School's great online resources for high school students and educators.