Tapping the Entrepreneurial Spirit of Miami-Dade High School Students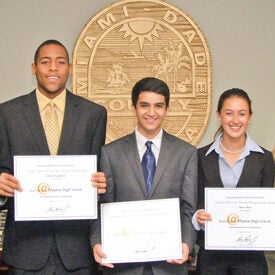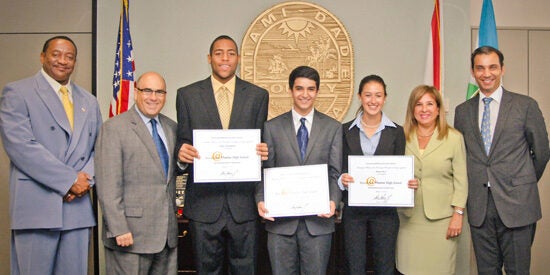 Miami-Dade, FL (PRWEB) April 02, 2012
Knowledge@Wharton High School (KWHS), a member of the Wharton School's Knowledge@Wharton network at the University of Pennsylvania, hosted an Entrepreneurship Competition for high school students in Miami-Dade Public Schools. The Entrepreneurship Competition began on February 13 and ended on March 23.
Miami-Dade recently joined Knowledge@Wharton's Global Leaders Network. As a member of the Global Leaders Network, Miami-Dade high schools receive access to free resources for educators and students who want to pursue their business, entrepreneurship and leadership interests both inside and outside the classroom. KWHS had a dilemma in that it needed help to spread the word to teachers and students about the resources and it turned to Miami-Dade high school students for the solution.
"We could have pursued the traditional path and hired a marketing company. However, students keep telling us that they want more opportunities to develop and apply real world business skills," says Scott Stimpfel, Director of Educational Initiatives for KWHS.
KWHS tapped the entrepreneurial spirit of Miami-Dade high school students to spread the word about its website to as many high school students and educators as possible. Students who participated in the competition designed and implemented a strategy to accomplish the goal of informing others about the site.
In a slow economy, students often have a difficult time finding entry-level jobs because they now have to compete with adults who have more experience. As a result, students have fewer opportunities to develop critical business skills.
"The KWHS program is an excellent example of the types of educational projects we need in order to better prepare our students for the future," says Carlos A. Gimenez, Mayor of Miami-Dade County. "I congratulate the University of Pennsylvania and the Wharton School for instituting this innovative way to engage our students," he adds.
"Students often read about the best practices of entrepreneurship, team work and leadership. We wanted to provide them with an opportunity to apply their knowledge and to gain a deeper understanding of these critical skills," says Diana Drake, Editor of KWHS.
A team of four high school students, Jose Galvis, Cedric Hankerson, Emerson King and Nicole Rilo from Miami-Dade's Coral Reef High School, beat out nine other teams from seven different high schools across Miami-Dade. The team informed more than 2,000 educators and students about KWHS. The team's total was the third highest among the 72 teams that participated in the competition in Philadelphia, PA and Irving, TX.
"I was very impressed when the students showed me the articles, lesson plans, competitions and other resources provided by KWHS," says Gina Greenwood, Lead Teacher at Coral Reef High School. "These are such valuable resources for both educators and students."
The students used a number of different marketing strategies to inform fellow students and teachers. Their approaches included using social media, presenting to students and teachers and creating a product. "We set up a table in our courtyard at school and pitched our fellow students on the resources KWHS has to offer," says senior Emerson King. "The competition was close, and we learned that you always have to come up with new innovative solutions."
KWHS is encouraging Miami-Dade teachers, students and parents to take advantage of its free online resources. "I think these resources prepare our students to be leaders, not only in our local communities, but also in the global community," says Principal Adrianne Leal.
Members of Miami-Dade's business community are also excited to see Knowledge@Wharton High School's involvement in enhancing financial literacy, entrepreneurship and leadership for local high school students. "High school students are competing in a global economy and Miami-Dade's students are getting a leg up on the competition by having access to the resources of the leading global business school, the Wharton School," says Boris Hirmas Said, Chairman KWHS Advisory Board and Entrepreneur in Residence at Florida International University.
The mission of KWHS is to promote financial literacy and a deeper understanding of how business works by presenting free content such as articles, videos, learning simulations and interactive tools. KWHS publishes a global online business journal for high school students interested in exploring all the ways that business touches their lives. In addition, KWHS creates opportunities for students and educators to explore their business-related interests both inside and outside the classroom through lesson plans, summer programs and educational competitions.
About the Wharton School and Knowledge@Wharton
The Wharton School of the University of Pennsylvania— founded in 1881 as the first collegiate business school — is recognized globally for intellectual leadership and ongoing innovation across every major discipline of business education. The most comprehensive source of business knowledge in the world, Wharton bridges research and practice through its broad engagement with the global business community. The School has 5,000 undergraduate, MBA, executive MBA, and doctoral students; more than 9,000 annual participants in executive education programs; and an alumni network of 88,000 graduates.
Knowledge@Wharton is a free biweekly online resource that captures knowledge generated at the Wharton School and beyond through such channels as research papers, conferences, speakers, books, and interviews with faculty and other business experts on current business topics. For more information: http://knowledge.wharton.upenn.edu.
Contact:
Diane Drake diana.kwhs(at)gmail(dot)com
Peter Winicov 
Senior Associate Director, Marketing and Communications 
winicov(at)wharton(dot)upenn(dot)edu 
215-746-6471