E-Scooters Rev Up Urban Mobility and Debate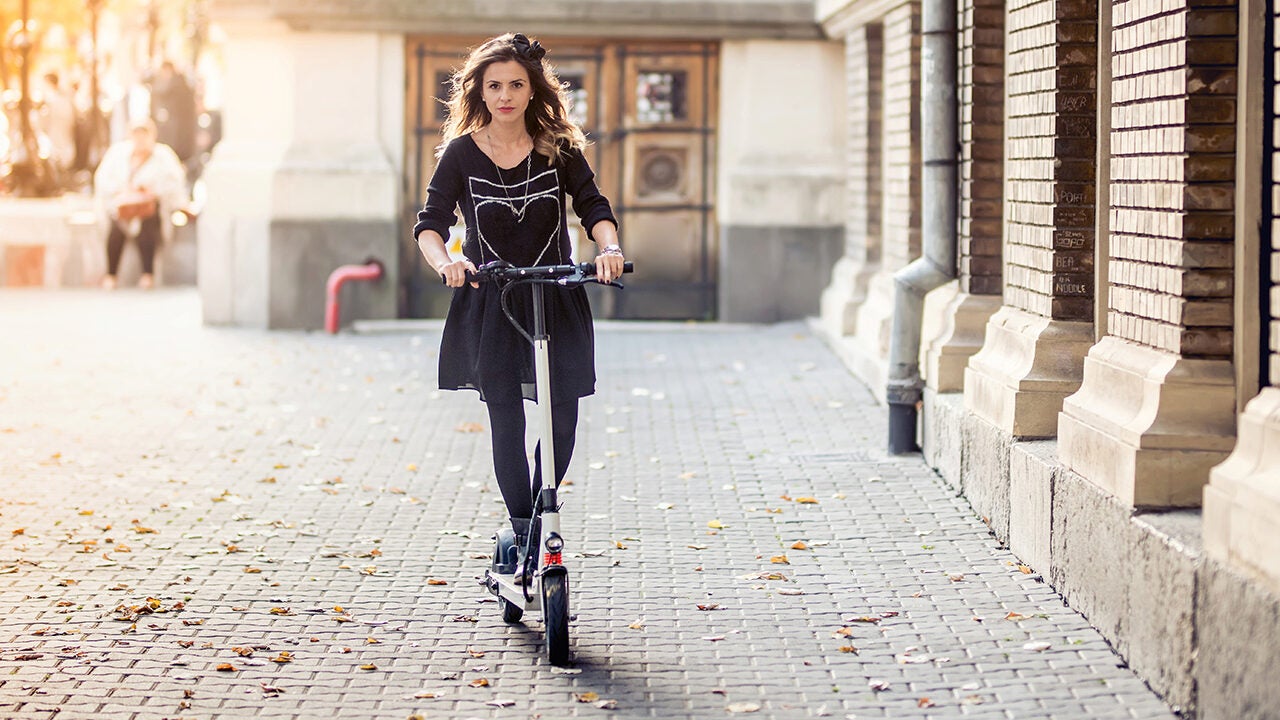 Julia Drake, a 2018 high school graduate, has been busy adjusting to life as a college freshman at the University of Denver in Denver, Colorado, U.S. High altitudes, late nights, dining hall food, light-rail trips, demanding classes – and stacks of rentable shared e-scooters. "People ride all over campus on electric scooters," says Drake, who adds that before heading west from Pennington, N.J., in September, she hadn't yet seen the e-scooter craze hit nearby East Coast cities like Philadelphia. "Here, scooters pile up on corners and around campus. You download the app to use them. It's a fun way to get around, and it saves you time getting to class."
Electric scooters are one of the latest commuter-share system trends in the U.S., offered through companies like Bird, Lime, Scoot and Skip. Lyft, the ride-hailing company, jumped onto the shared-scooter bandwagon this fall by launching dockless electric scooters in its first U.S. market, which just happened to be the city of Denver. This week, Lyft expanded its scooter space to Washington, D.C., its first such launch on the East Coast. And Uber, anticipating an initial public offering in 2019, is embracing electric scooters and bike-share services as it speeds toward a more comprehensive business model that CEO Dara Khosrowshahi defines as an "urban mobility platform."
'We Need New Modes'
Urban economics is getting a lot of attention these days (think smart cities), and how people get around is one of the most critical issues. In a recent report on urban mobility, McKinsey & Company, a consulting firm, put it like this: "As more of the world's cities become congested and polluted, new business models and technologies are emerging to solve the mobility challenge."
Enter e-scooters, which, while a relatively new trend in the U.S., have already been buzzing down city streets for some time in countries like China. Spain is reportedly grappling with an "invasion of electric scooters" in Madrid and other cities. "Sustainable urban transportation is really about having options, and scooters are a new option," said Megan Ryerson, an assistant professor of city and regional planning at the University of Pennsylvania in Philadelphia, Pa., and research director of the Mobility21 Transportation Research Center.
Ryerson joined the Knowledge@Wharton radio show on SiriusXM this week to discuss the proliferation of e-scooters on city streets around the U.S. "Cities can't grow without transportation options other than cars," she continued. "Philadelphia [for example] is an old legacy city with small narrow streets and lots of new people moving in. These people need modes of transportation to get places. We need new modes. Scooters are a new mode to experiment with, and I think that's exciting."
"This mode is chosen by young people. If we're going to allow, invest in and make allocations for scooters, then we need to be mindful that we're benefiting a certain subset of the population." — Megan Ryerson
It's also proven kind of scary. The e-scooter explosion has become somewhat of a free-for-all as companies target various cities and experiment with introducing scooters into the mobility mix, and cities decide if they will allow scooters to enter the market. "Scooters are new to [the San Francisco Bay Area], and we're learning how to deal with them," noted Elizabeth Deakin, professor emerita of city and regional planning and urban design at the University of California, Berkeley, who was also a guest on this week's K@W radio show. "We're seeing crashes with broken wrists, arms…and some head injuries. People don't wear helmets because riding a scooter is a spur-of-the-moment decision rather than a planned decision, so people don't carry helmets around with them all day long." Scarier still, added Deakin, are tourists who think that e-scooters will add a bit of adventure to their trip, even though they don't know where they're going or how to get there. "In the San Francisco Bay Area, we're seeing that it's a mode for young people. We don't see very many people over 40 on scooters," she added. "Hit and scoots" by rushing commuters are also a problem.
Teen Scooter Renegades
The e-scooter debate extends into other areas, as well. Are they safe for bike lanes or sidewalks? How many is too many to share the roads with bikes and cars? What's more, people leave scooters littered about city street corners and walkways, awaiting their next riders. This has resulted in cities like San Francisco confiscating hundreds of illegally parked scooters. "We've seen a lot of tactical urbanism — people painting different parking spaces for the scooters," said Ryerson. "Absent those, there have been scooters just sort of docked wherever they can go, sometimes in the middle of the sidewalk." And despite their youthful vibe (Denver labels e-scooters as toys and therefore requires riders to stick to sidewalks), in many cases you must be at least 18 to ride one, which has led to a faction of teen scooter renegades who risk hundreds of dollars in fines for their illegal choice of transportation.
The buzz around e-scooters is likely to continue, suggested Ryerson and Deakin, until market research emerges about their effectiveness as an urban mobility option. "The data is missing right now," said Deakin. "If companies could be enticed or regulated [to share] their data, we would benefit because we would have all kinds of better information about safety and urban travel."
As cities put 500 scooters on the streets and evaluate their impact on the transportation infrastructure, those pilot projects will help cities make more informed e-scooter decisions, added Ryerson. "It's really important to take that data, do a comprehensive analysis and do some metrics to evaluate if a scooter pilot program is successful," she said. "This mode is chosen by young people. If we're going to allow, invest in and make allocations for scooters, then we need to be mindful that we're benefiting a certain subset of the population. This may be something we want to do because those young people had been in individual cars all taking up parking spots, causing incremental congestion. If we get them out of cars, then maybe it benefits everyone. Or, maybe they were diverted from walking, and now we have another mode of transportation that causes safety problems, that needs maintenance and that is clogging up the sidewalks. Not to mention that it is deterring people from walking, the most sustainable transportation mode you can have."
E-scooter exploration will continue, as riders and city planners figure out their safest and most efficient place in urban mobility. As they flood the market, expect the urban environment to begin to adapt. "All modes of transportation have their problems and their benefits," noted Ryerson. "They create this trade between providing us the accessibility to the economy that we need, but also causing barriers to mobility for others. Providing safe infrastructure for biking encourages more people to bike and to take on biking as a commuting mode. If we provide safe infrastructure, more people will take scooters and consider them an actual option."
Related Links
Conversation Starters
What is urban mobility and why is it an economic priority? Use the Related KWHS Stories tab to research smart cities and the sharing economy.
Do you think e-scooters are a smart choice for getting around? Why or why not? What would you recommend for their entry into the mobility mix to improve safety and reduce some of the issues that cities seem to be struggling with?
Using the Related Links, explore the concept of tactical urbanism that is alluded to in the article. What is it and why is it valuable? How might you become a tactical urbanist in your city? What changes/improvements would you like to make? Develop a tactical urbanism project with a group and present it to your class.