Wharton Summer High School Programs
Leadership in the Business World
Supported by the Wharton School of the University of Pennsylvania, Leadership in the Business World (LBW) is an intensive summer program for a select group of rising high school juniors and seniors who want an introduction to a top-notch undergraduate business education and the opportunity to hone their leadership, teamwork, and communication skills. Since 1999, LBW has brought students from six continents and nearly every state to the Wharton School.
Program Dates: Session 1: May 31-June 27, 2020; Session 2: June 28-July 25
Priority Application Deadline: January 22, 2020
Applications for the summer 2020 Leadership in the Business World program are no longer being accepted.
Location: The Wharton School of the University of Pennsylvania, Philadelphia, PA, USA
Eligibility: High school students currently enrolled in grades 10-11 with demonstrated leadership ability. International applicants are welcome.
Applications for summer 2020 programs are now open.
About LBW
LBW offers opportunities to learn about leadership in 21st century organizations through a dynamic and rigorous mix of classes with Wharton professors and business leaders, company site visits, and team-building activities.
Each summer, LBW students:
Attend lectures and presentations from outstanding Wharton faculty and guest speakers.
Engage in classroom discussions about core business subjects, entrepreneurship, and leadership.
Have the opportunity to engage with and learn from current Wharton students who serve as Teaching Assistants (TAs) throughout the program.
Develop and enhance leadership skills through collaborative teamwork.
Visit business enterprises and speak with successful leaders across the industries of finance, entrepreneurship, entertainment, real estate, retail, and more.
Work in teams to design and present an original business plan, evaluated by a panel of venture capitalists and business professionals.
Participate in weekend and evening cultural and social activities.
Test their potential as future business leaders.
Admission and Eligibility
Admission to LBW is highly selective. Each year the admissions committee receives many more applications than there are available places. Wharton will select approximately 160 students to attend across the two sessions. Selections are based on a record of academic excellence, demonstrated leadership, and a genuine interest in developing leadership skills. Interested students are strongly encouraged to submit an application by the priority deadline.
For more information, please contact Wharton@summerdiscovery.com or call +1-516-621-3939.
Please note that participation in LBW does not guarantee admission into Penn.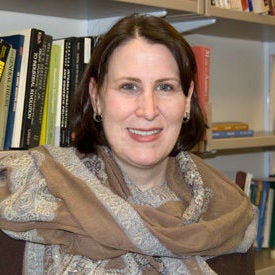 Sara Jane McCaffrey is a Senior Fellow and Lecturer in Management at the Wharton School of the University of Pennsylvania. Sara Jane's research interests include workforce skills, responses to globalization, the development of ethical markets, and corporate responsibility. Her publications include articles in Business & Politics, Business & Society, Organization & Environment, and Socio-Economic Review. In 2019, she received a Wharton Teaching Excellence Award for outstanding performance.
Sara Jane holds a bachelor's degree in foreign service from Georgetown University and a PhD in political science from the Massachusetts Institute of Technology.