This mini-site for high school students provides Wharton School-powered videos, readings, and activities to inspire deep thought and discussion around global business issues.
W
elcome to our third and final mini-site in a series looking at the acronym that is transforming the business world: ESG 
ESG, which stands for Environmental, Social and Governance, has become the unifying lens with which to evaluate companies' efforts to do more than make a financial profit. Stakeholders, including investors, are asking: how well does a company score on ESG criteria? And yet ESG involves more than just screening a company's beliefs and practices supporting people and the planet. As firms try to contribute positively to the environment, develop progressive governance activities, and support social causes, they are thinking hard about how to incorporate ESG factors into their business strategies. They must meet the changing demands of investors, customers, employees and communities, and comply with new regulations. 
This is a powerful and necessary conversation for the next generation. As future contributors to the workplace and economy, today's youth must build awareness about the ESG movement and explore their role as catalysts for this change. 
This Explore Business mini-site examines the third topic in the Wharton School's 2021 Beyond Business Series: Humanizing ESG. The ESG "S" factor is about people – employees, customers and the community — and how companies impact and support them.  
In this discussion, Erika James, Dean of the Wharton School, joins a panel of experts to address the social piece of ESG, in particular how companies can be a positive force in addressing social challenges. Dean James is joined in the discussion by Witold Henisz, a professor of management at Wharton; Andrew Plepler, global head of ESG at Bank of America; and John Streur, president and CEO of Calvert Research and Management, a leader in responsible investing.   
The activities on this mini-site connect to the Humanizing ESG discussion and provide opportunities for high school students to Explore Business. The linked worksheets will help direct students' exploration of the shorter video segments, with guided questions and defined vocabulary. We encourage students to enjoy discovering new business insights – and contributing their own ideas to this important conversation.   
"How do we make social impact more than just a buzzword? Here, we explore the business case for companies serving as a positive force in addressing societal challenges."
— Wharton Dean Erika James
Explore the Main Video Themes with These Shorter Segments
1. Understanding the "S" in ESG
Following an introduction by Dean Erika James, Wharton's Witold Henisz explains how the social factor of ESG involves business's impact on different groups of people. 
2. Issues Affecting Employees, Customers and Communities
Drilling down even further on the human side of ESG, the guests discuss specific examples of the social challenges that companies and their various stakeholders must navigate.
3. How Racism is Destroying Value for Shareholders
John Streur of Calvert responds to why he thinks corporations are responsible for ending racism in America and how investors — and the SEC — are holding corporations accountable.
4. Companies Respond to Cries of Racial Injustice
Andrew Plepler provides an inside look at how a big corporation is addressing racial injustice and other societal issues.
5. How the Pandemic Has Influenced Social Factors
COVID-19 has accelerated critical societal challenges like inequality, intensifying the need for businesses to place even greater focus on their workplace culture and employees. 
6. The Power of Data to Support the Economics of ESG
Professor Henisz describes his more than 10 years of research and discovery to make the business case that ESG isn't only about ideology, it's smart economics.    
7. What Will Drive Progress on ESG?
While we are trusting voluntary, market-led solutions to deal with the social factors of ESG, data and corporate action will help convince stakeholders to influence and embrace change.
For Teachers and Students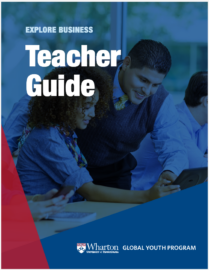 The Teacher Guide is a resource to help educators understand the purpose of the Explore Business series of mini-sites on ESG and to provide guidance for using the videos and worksheets on this page with your students.
The Choice Board allows students to select individual projects and activities that help them reflect on Explore Business themes and apply them to their own experiences. The student activity choices are meant to support in-person and remote classroom learning.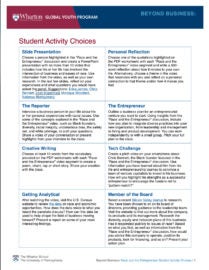 Explore Business with Wharton Global Youth
Our Explore Business mini-sites are gateways to conversations, readings and activities that inspire high school students to think more deeply about issues affecting business and society. Dig into these Wharton-powered learning opportunities wherever and whenever you want to explore timely and compelling topics.