This mini-site for high school students provides Wharton School-powered videos, readings, and activities to inspire deep thought and discussion around global business issues.
T
he latest focus of our Explore Business learning materials for high school students is Analytics.  
The strategic use of data is transforming business, powered by the machine learning and models that carry out the analysis. Data is a mighty tool that companies and researchers are using to make deeper, stronger, more effective decisions with the goal of improving everything from products and innovation, to relationships with customers. With increasingly sophisticated analytics, business leaders can discover new insights and draw ever-sharper conclusions.  
High school students need to understand the impact of analytics, artificial intelligence (AI) and machine learning, which are altering the approach to problem-solving in every industry.  
This mini-site explores how researchers are using data and analytics to improve society. When faced with challenging and sensitive societal issues — such as police reform, human trafficking and media transparency — analytics can offer surprising ways to increase accountability and drive social good.  
In this discussion, Erika James, Dean of the Wharton School, leads a panel of experts to discuss how data can impact our understanding of social problems and lead us to effective solutions. Dr. James is joined in the discussion by Hamsa Bastani a Wharton assistant professor of operations, information and decisions, and assistant professor of statistics and data science; Dean Knox, a Wharton assistant professor of operations, information and decisions, and assistant professor of statistics and data science; and Duncan Watts, a Wharton professor of operations, information and decisions, communication, and computer and information science.  
The activities on this page connect to the Using Data to Protect and Serve discussion and provide opportunities for high school students to Explore Business. The linked worksheets will help direct students' exploration of the shorter video segments, with guided questions and defined vocabulary. We encourage students to enjoy discovering new business insights – and contributing their own ideas to this important conversation.  
"This was a very inspiring hour for me — listening to our faculty, understanding the impact of their work and how it is transforming societal issues and challenges in extremely positive ways."
— Wharton Dean Erika James
The Full Discussion:
Using Data to Protect and Serve
Explore the Main Video Themes with These Shorter Segments
1.

Making a

Social Impact

with Analytics: The Research

 
Following an introduction, Wharton experts talk about how they are using analytics and machine learning to tackle human trafficking, policing reform and bias in the media.  
2.

Machine Learning as a Methodology and

Using

Diverse Data Sources
Dr. Hamsa Bastani and Dr. Dean Knox talk about the value of machine learning to sort through vast datasets and how unconventional data sources can help clarify research conclusions. 
3. Can Data Save the Media?
Wharton's Duncan Watts talks about how the Penn Media Accountability Project is creating a vast dataset to reveal and analyze bias in the news.
4.

Uncovering the Data that Drives

Sensitive Research
Professors Hamsa Bastani and Dean Knox discuss the partnerships that feed their data collection around human trafficking and policing reform and how they strive to integrate diverse perspectives.
5.

Addressing

Biased Datasets
The Wharton School panelists talk about the challenges of bias and imperfect data that can compromise machine learning models, and how they work to overcome incomplete information.
6.

Making a Social Impact with Analytics: Looking Ahead
Professors Dean Knox, Hamsa Bastani and Duncan Watts reveal the exciting new directions for their demand forecast models, data collection and truth in media. 
For Teachers and Students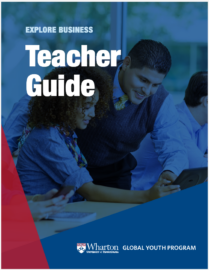 The Teacher Guide is a resource to help educators understand the purpose of the Explore Business series of mini-sites on Analytics and to provide guidance for using the videos and worksheets on this page with your students.
The Choice Board allows students to select individual projects and activities that help them reflect on Explore Business themes and apply them to their own experiences. The student activity choices are meant to support in-person and remote classroom learning.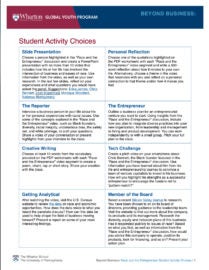 Explore Business with Wharton Global Youth
Our Explore Business mini-sites are gateways to conversations, readings and activities that inspire high school students to think more deeply about issues affecting business and society. Dig into these Wharton-powered learning opportunities wherever and whenever you want to explore timely and compelling topics.