This mini-site for high school students provides Wharton School-powered videos, readings, and activities to inspire deep thought and discussion around global business issues.
T
he latest focus of our Explore Business learning materials for high school students is Analytics.  
The strategic use of data is transforming business, powered by the machine learning and models that carry out the analysis. Data is a mighty tool that companies and researchers are using to make deeper, stronger, more effective decisions with the goal of improving everything from products and innovation, to relationships with customers. With increasingly sophisticated analytics — the use of data analysis to inform decision-making — business leaders can discover new insights and draw ever-sharper conclusions.  
High school students need to understand the impact of analytics, artificial intelligence (AI) and machine learning, which are altering the approach to problem-solving in every industry.  
This mini-site explores how analytics gives sports teams a competitive edge and how data comes into play both on and off the field in professional sports. Since the release of Michael Lewis's book Moneyball, sports analytics has taken the spotlight as a driver of competitive advantage for professional teams. From determining player value and achieving optimal performance, to mining insights for the online sports-betting business, the use of analytics in sports is exploding.  
In this discussion, Erika H. James, Dean of the Wharton School, leads a panel of experts to discuss how the sports and sports-betting industries are embracing data science. Dean James is joined by Eric Bradlow, a professor of marketing at the Wharton School and vice dean of Analytics at Wharton; and Amy Howe, CEO of FanDuel, a fantasy sports and online sports-betting company.  
The activities on this page connect to the More than a Game discussion and provide opportunities for high school students to Explore Business. The linked worksheets will help direct students' exploration of the shorter video segments, with guided questions and defined vocabulary. We encourage students to enjoy discovering new business insights – and contributing their own ideas to this important conversation.   
You must be 21 years or older in most U.S. states to participate in online sports betting.
"I've always taken exception to the phrase data-driven because it assumes that whatever the data say is what you should do. It leaves out the role of judgment, personal information, culture and history…what I hear you saying is that it's better to be data-informed." 
— Wharton Dean Erika James
The Full Discussion:
More than a Game
Explore the Main Video Themes with These Shorter Segments
1. Data and Analytics in Sports and Sports Betting
Following a brief introduction, Wharton professor Eric Bradlow and FanDuel CEO Amy Howe discuss how data and sophisticated analytics models are essential to effective decision making in sports and sports betting, both on the field and off.  
2. Analytics Across Different Sports
Sports like American football often lead the game of analytics and sports betting, and now other sports (even pickleball!) are getting in on the benefits of enhanced data and statistics.  
3. Quality Control: Data Integrity, Bias and Statistical Models
How sports betting and sports analysts are addressing the overall accuracy, completeness and consistency of data, as well as evaluating their models to account for variables. 
4. FanDuel and The Analytics of Sports Betting
The online sports betting market globally generated revenues of $83.65 billion in 2022. FanDuel CEO Amy Howe takes us inside this young, analytics-driven, growing industry. 
5. Would You Rather Have a Better Coach or Better Data?
While the More than a Game panelists believe in the power of data, they agree that analytics is a support tool – along with professional judgment, experience and observation – for sound decision making.  
6.

Damar Hamlin and Athlete Safety
Impelled by football player Damar Hamlin's recent cardiac arrest on the field, Dr. Eric Bradlow talks about data's role in the safety of sports and protection of athletes.  
7.

A Look at the Business Side of Sports, Betting and Analytics
From marketing strategies like Customer Relationship Management and cross-selling, to competition in online betting, the More than a Game panelists discuss the critical role of data and analytics. 
8.

Advice for Aspiring Sports Analysts
Amy Howe and Eric Bradlow, who have both pursued very interesting paths combining their passion for sports and analytics, share their best career advice.  
For Teachers and Students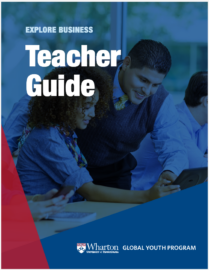 The Teacher Guide is a resource to help educators understand the purpose of the Explore Business series of mini-sites on Analytics and to provide guidance for using the videos and worksheets on this page with your students.
The Choice Board allows students to select individual projects and activities that help them reflect on Explore Business themes and apply them to their own experiences. The student activity choices are meant to support in-person and remote classroom learning.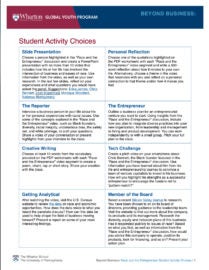 Explore Business with Wharton Global Youth
Our Explore Business mini-sites are gateways to conversations, readings and activities that inspire high school students to think more deeply about issues affecting business and society. Dig into these Wharton-powered learning opportunities wherever and whenever you want to explore timely and compelling topics.