Wharton Global Youth Partners with a Leading Nonprofit to 'Open the Gates' to Education Access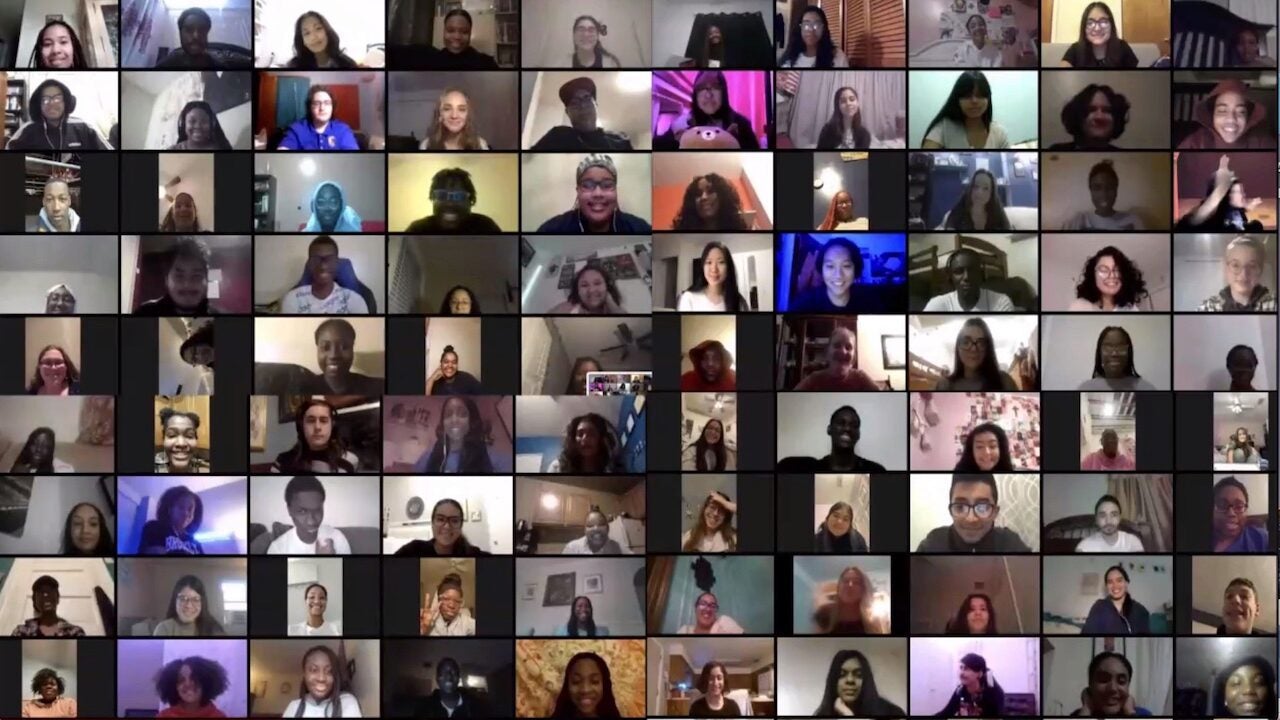 Philadelphia, September 30, 2021 — This week, 100 students from eight high schools across six U.S. cities are taking on a new and unique academic challenge. They are the first scholars to participate in "The Essentials of Personal Finance," a Wharton Global Youth Program pre-baccalaureate course delivered in partnership with the National Education Equity Lab and taught by Wharton's David Musto, director of the Stevens Center for Innovation in Finance, and a group of 11 Wharton MBAs serving as teaching fellows. Wharton Global Youth is a program at the Wharton School, University of Pennsylvania, that provides learning opportunities for high school students around the world.
While the Wharton Pre-Baccalaureate Program officially launched in January 2021, this latest partnership represents the first time a Wharton Pre-Bacc course is being integrated into selected high school classrooms.
Students are participating in the course remotely from their schools, located in Miami-Dade, Florida; Manchester and New Haven, Connecticut; New York, New York; and Gallup, New Mexico. They meet online once a week with Wharton MBAs, while also digging into course content offline with their classroom teachers.
"It is an exciting opportunity to connect the world-class research and teaching of Wharton's faculty and scholars directly to the high school classroom," said Wharton Global Youth Program Executive Director Eli Lesser. "Our collaboration with the Ed Equity Lab is incredibly powerful as we try to inspire more students and educators to discover business and finance education and develop skills that will last a lifetime." Lesser — along with Global Youth team members Lauren More, director of high school programs, and Effie Zhou, manager of online programs — was instrumental in designing and launching "The Essentials of Personal Finance."
"We have a tremendous responsibility to impact the pipeline of future business leaders so that it more accurately reflects the world around us."— Erika James, Dean of the Wharton School
Throughout the 10-week course, this group of 100 "Ed Equity Lab scholars" will learn everything from defining and calculating simple and compound interest and how the U.S. tax system works, to exploring ways to fund higher education and negotiate the best available financial aid packages. The course is designed to help students understand key personal finance concepts and learn how to make wise financial decisions. Upon successful completion, they will earn college credits.
Dean James Expands Wharton's Reach
During The Essentials of Personal Finance course Opening Ceremony on September 23, held virtually and attended by officials, educators and nearly all the student scholars, National Education Equity Lab CEO and founder Leslie Cornfeld said, "We want to welcome you all to the Ed Equity Lab…We are behind you and we can't wait to meet you and get to know you this semester." The Ed Equity Lab, a national education justice nonprofit funded by the Gates Foundation, brings college credit-bearing courses from the nation's top colleges to high school students in historically underserved communities.
That mission aligns fully with Wharton Dean Erika James's deep commitment to diversity, equity and inclusion. "At the Wharton School, we have a tremendous responsibility to impact the pipeline of future business leaders so that it more accurately reflects the world around us," said Dean James at the kick-off event. "To do so, it is imperative that we leverage our vast resources and knowledge, thought leadership, and people to achieve that greatest reach." Congratulations, she added, for being the first to experience this "unique dual-enrollment program."
Professor Musto, recalling his own positive experience earning college credits as a high schooler growing up in New Haven, urged students taking the course to "get to know the MBAs that are teaching your class — the amazing experiences they've had, the paths they've taken and what that might mean for you." The MBA teaching fellows attending the kick-off event included past employees of Google and JPMorgan Chase, representing such industries as investment management, real estate and private equity.
In keeping with Zoom culture, the high school Ed Equity Lab scholars lit up the opening-ceremony chat with their observations and gratitude: "Dean James is a rock star!" commented one. And another: "Thank you all for this opportunity. I am looking forward to the college experience."
Michael Klein, managing partner of M. Klein and Company and a Wharton School graduate (W'85) who sits on Wharton's Board of Advisors, encouraged students to make the most of their time with the Ed Equity Lab and Wharton. "I do believe that in the United States talent is equally spread and opportunity is not," he noted. "Today, Wharton opens the gates. Wharton is providing that access, that opportunity…I can't wait to hear how well you'll succeed and what you all do next with this learning."
Stay tuned to the Wharton Global Youth Program newsletter for news and updates about the Wharton Pre-Baccalaureate Program and our collaboration with the National Education Equity Lab.