Wharton Summer High School Programs
Wharton Data Science Academy
The Wharton Data Science Academy will bring state-of-the-art machine learning and data science tools to high school students. We aim to stimulate curiosity in the fast-moving field of machine learning through this rigorous yet approachable program. Building up statistical foundations together with empirical and critical thinking skills will be the main theme throughout. By the end of the program, students will not only be equipped with essential data science techniques such as data visualization and data wrangling but will also be exposed to modern machine learning methodologies, which are all building blocks for today's AI field. Along the way, students will develop a working proficiency with the R language, which is among the most widely used by professional data scientists in both academia and industry.
We believe data science is not just a collection of techniques; it is foremost motivated by real world problems. The data scientist of the 21st century must be able to identify relevant problems, provide sensible analyses, and ultimately communicate their findings in meaningful ways. All learning modules are based on real life case studies.
Program Dates: July 12 – July 30, 2021
Wharton Global Youth Meetup access: June 7 – August 17, 2021
Priority Application Deadline: February 26, 2021

Final Application Deadline: April 15, 2021
Applications will be accepted until the final deadline, or until each session fills.

Location: Online for 2021
Live Schedule: Monday – Friday, 10am – 1pm, 3pm – 5pm EDT (UTC-4)

Eligibility: High school students currently enrolled in grades 10-11 with a strong background in math and interest in data analytics. Previous understanding of statistics is preferred. Students must be open to the challenge of a rigorous curriculum similar to that of an intermediate Wharton undergraduate course. International applicants are welcome.

Applications for summer 2021 programs are now open.
About Data Science Academy
Headed by machine learning expert and Wharton professor of statistics, Linda Zhao, the Wharton Data Science Academy will premiere in summer 2021.
What students can expect:
Wharton professors who are data science experts will lead the lectures and will also be available to students outside of class.
Students will advance their skills with data from real world cases and will be challenged to articulate their findings with a final project.
Wharton undergraduate TAs will engage with students and share their experiences in studying data science.
Guest speakers who will share their wisdom of data science as a career.
Students will work in teams to complete a final project and present to their peers at the end of the program.
Course Details and Requirements
Course Meeting Times:
Daily participation and engagement are required Monday through Friday. Each day will include some mixture of live, online class sessions; facilitated, small group discussions; lab time; collaborative group work; and independent work, completed within the Wharton Online Learning Platform. Live class sessions will meet as outlined below.
Live Session Schedule:
Monday – Friday: 10:00AM-1:00PM and 3:00PM-5:00PM Eastern Daylight Time (GMT-4)
Live, Small Group Activities: Additional small group meetings may be required to complete collaborative activities or peer project work. If necessary, these meetings will be scheduled at the students' convenience.
Technical Requirements:
In order to fully participate in this course, you will need a computer that meets minimum system requirements for both Canvas LMS and Zoom Videoconferencing. Refer to the following links:
Canvas LMS Support Resources
Zoom Requirements and Support
All programming originates from the Wharton School, University of Pennsylvania (Eastern Daylight Time)
Admission and Eligibility
Wharton will select 75 students for the 2021 Wharton Data Science Academy. Admission to Data Science is selective. Selections are based on a record of academic excellence and a demonstrated background in mathematics and/or statistics. Interested students are strongly encouraged to submit an application by the priority deadline.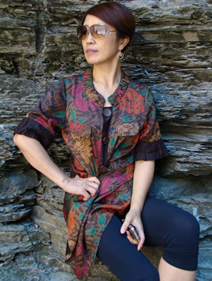 Linda Zhao is a full professor of statistics in the Wharton School. As an expert in machine learning, she has been teaching a modern data mining course to undergraduate, MBA, Master, and Ph.D. students throughout the entire Penn campus. Students comment that her data mining course is one of the most fun and useful courses offered at Penn. In addition to teaching regular Wharton students, Linda served as a co-director of the Wharton–SAC (Securities Association of China) executive program, which she successfully ran and taught. By teaching various levels of students, Linda is able to design and deliver state-of-the art machine learning skills to students from all different backgrounds. A fellow of the IMS, a leading international statistics organization, Linda has been actively engaged in her academic career. Her specialty falls in modern machine learning methods, replicability crisis in science, high dimensional data, housing price prediction, and Bayesian methods. Her work has won the NSF support for over 20 years. She is also an avid ballroom dancer and she loves to travel around the world.
Please note that participation in Wharton Data Science Academy does not guarantee admission into Penn.