Wharton Summer High School Programs
The Saturn Parable:
A Game that Makes Leaders
Join the Wharton Global Youth Program and Wharton Interactive for a chance to learn about leadership and team skills while engaging in a global learning simulation. Working with a team of global peers, you will take a trip to Saturn and navigate the obstacles of interstellar travel while also working to achieve unique goals. Beyond the experience students will receive a personalized leadership profile document based on performance and a certificate of completion.
Dates
Expedition 1: July 11-12, 6-10pm EST
Program Timeline
Day 1 : 3 hours
15 minute introduction
30 minutes of solo play
2 hours of group play (students will be randomly assigned groups)
15 minutes for reflection and survey assignments
Day 2: 3 hours
10 minutes of introduction
80 minutes of group play
80 minutes of debrief lecture
10 minutes for reflection and survey assignments
Enrollment: This program is open enrollment and all high school students (current 9th-12th graders) are welcome to enroll. No application required. Full English fluency is required; the program is presented in English and includes components of collaborative work.
Program Fee: $350

Taking place in 2087 students assume the role of a member of the Enceladus Expedition, the first commercial space mission to Saturn's moon Enceladus, whose south pole provides the only reliable source of liquid water beyond Earth. Each player will have to navigate real-world challenges in this fictional setting, receiving continuous, adaptive performance feedback via the gaming interface. The experience is entirely online, but players will interact with their teammates in real-time in the game, and with Professor Mollick during the live online lectures. 
The Saturn Parable is an exciting opportunity for high school students: the chance to participate in a special 2-day remote seminar built around a cutting-edge multiplayer game that teaches and evaluates leadership and team skills. Taught by Wharton Professor  Ethan Mollick, and using an advanced game developed with  Wharton Interactive, participants will learn real life lessons, get continuous feedback on their evolving skills throughout the course of the experience, and receive a certificate from the Wharton School – all while playing a highly engaging game! 
Designed to be both fun and impactful, the Saturn Parable is highly rated by executives and Wharton MBAs. The version you will experience has been specially adapted for high school students working remotely this summer. 
The game requires fluency in English and a willingness to work with teams in challenging situations within the game interface and via video chat. Participants will need to be available on a computer with internet access, camera, and microphone during the entire experience. Certificates will be awarded upon completion of the seminar. 
Registration is now closed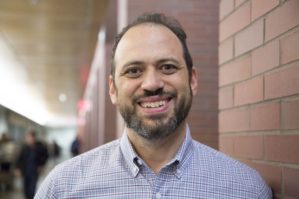 Ethan Mollick
Prof. Mollick is also the Academic Director and co-founder of Wharton Interactive, which aims to transform business school teaching using games and simulations. He has had a long interest in using games for teaching, and co-authored a book on the intersection between video games and business that was named one of the American Library Association's top ten business books of the year, and has studied the way that games can be used to motivate performance and to educate. His simulations and games are used by tens of thousands of students around the world