Wharton Summer High School Programs
Future of the Business World
The Future of the Business World online course is a dynamic learning experience for exceptional high school students from around the world. It is designed to introduce students to areas of research by the Wharton faculty and engage them as the next generation of global business leaders. Students attend live daily online events and work independently. Ultimately, they use all the ideas and insights from the course to create final projects that make predictions about the future of the business world. This new course is a chance for students to begin to identify interests and lay the foundation for future education and career goals.
Course Dates:
Session I: June 8- June 19  Sold Out –  No Wait List
Session II: June 22 – July 3  Sold Out –  No Wait List
Session III: July 6 – July 17  Sold Out –  No Wait List
Session IV: July 20 – July 31  Sold Out –  No Wait List
Session V: August 3 – August 14
Wharton Global Youth Meetup: June 8 – August 17
Applications will be accepted until July 20, 2020
Location: Online (Monday-Friday)
Eligibility: High school students currently enrolled in grades 9-11 looking to advance their entrepreneurial mindset. No business background is required. International applicants are welcome.
Program Fee: $3,850 (includes 2-week course and access to 10 Week Wharton GYM)
About Wharton Future of the Business World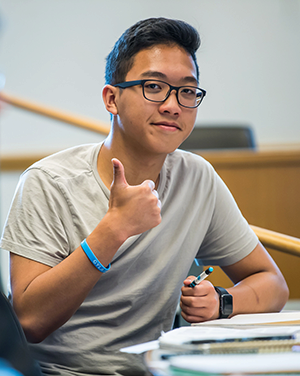 The Future of the Business World course is a unique online experience specifically for high school students to ask big questions about a world in the midst of dramatic change. The course applies innovative online tools used in Wharton undergrad and graduate classrooms to introduce different business themes in which Wharton's faculty lead the global conversation.
The course conversation is anchored by the idea that while the world is constantly changing, COVID-19 has greatly accelerated that change, propelling the business world into uncharted territory. Students gain new knowledge guided by the pillars of a Wharton education: Innovation and Entrepreneurship; Data Analytics; and the Future of Finance. Throughout the experience, students are asked to contribute their points of view to the learning. The fully online course includes mini-lectures from Wharton faculty, opportunities for live engagements with faculty and Wharton instructors, collaborative projects with peers around the world, and original online real-time business simulations.
Participation in the course prepares high school students for the next steps in their academic journeys, giving them the tools to make informed choices about what they want to explore and study and how they want to engage with a changed world. More importantly, they will be better prepared for leadership in business and society. Students who successfully complete all course requirements earn a Wharton Global Youth Program certificate.
The Future of the Business World is delivered fully online through the Wharton Online platform. Students take daily live course sessions with instructors, faculty and teaching assistants. Each day also features independent work through videos, activities and readings.  Students ultimately collaborate with small groups of peers from around the world on a final project that showcases what they have learned throughout the course.
"Wharton's Future of the Business World online course encourages Gen Z to explore new models for organizational leadership in this era of pervasive uncertainty. As future business leaders, I invite them to start learning with Wharton."
— Dean Geoff Garrett
Learning Objectives:
Understand various business perspectives as presented in a Wharton education
Examine current issues facing the business world, influenced by COVID-19
Explore and express personal points of view about the changing business landscape
Make predictions about what global business may look like when students achieve leadership roles
Produce group projects that present predictions about the future of the business world
When will the course meet and how often do I need to be online?
Daily participation and engagement are encouraged Monday through Friday. Each day will include a mixture of live, online class sessions; facilitated, small group discussions; collaborative group work; and independent work, completed within the Wharton Online Learning Platform. Live class sessions will follow a block schedule, outlined below. Students should attend the course block that best suits their time zone and/or personal preferences. Complete course details will be provided in the course syllabus, to be issued in advance of the first class.
Live Course Blocks:

Block A: 8:00AM-10:00AM Eastern Daylight Time
Block B: 1:00PM – 3:00PM Eastern Daylight Time
The same content will be presented in each block; students will choose the course block that suits their schedules best.

Live Small Group Discussions: Final meeting times will be determined based on time zones with students choosing groups that allow them to engage at the times best suited to their schedules.
Why are you creating this course?
COVID-19 is impacting people all over the world, and in turn, changing the course of business. The Future of the Business World course was created to leverage this opportunity to engage students in a timely conversation about the future of business, a future they will lead. The course, built exclusively in an online format, brings the best of Wharton together with some of the brightest young people in the world.
What can I expect from this course?
You will be offered the chance to engage with nearly all of the 10 academic departments at Wharton. Like the now-famed Wharton 101 course, which all freshmen are required to take, this course will be a chance to identify areas of business where you see a personal connection. At the same time, the course will use specialized learning tools that are only available to Wharton students, such as case study seminars and interactive business simulations.
Will I have live sessions or is everything on-demand?
Yes! Each day will include a combination of live class sessions, group and independent work. This mirrors the on-campus experience of our summer programs. A course syllabus will be provided on the first day and will clearly outline daily plans and course expectations.
Is this program graded?
As the Future of the Business World online course is offered on a non-credit basis, no formal grades are assigned. However, students who successfully complete all assignments are awarded a Certificate of Completion.
Technical Requirements:
In order to fully participate in this course, you will need a computer that meets minimum system requirements for both Canvas LMS and Zoom Videoconferencing. Refer to the following links:
·      Canvas LMS Support Resources
·      Zoom Requirements and Support
Accommodations will be made for students in time zones around the world; all programming originates from the Wharton School, University of Pennsylvania (Eastern Daylight Time)
Exploring the Issues:
The Wharton Global Youth Program KWHS website features articles, glossary terms and more to introduce high school students to the ideas and innovations that are shaping the Future of the Business World. Read current insights from Wharton faculty, and then check out comments from other high school students to discover diverse perspectives related to the topics explored in Future of the Business World.
Wharton Global Youth Meetup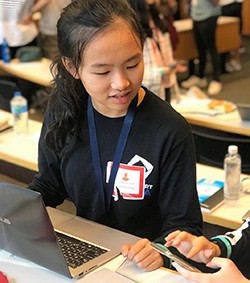 All students enrolled in a 2-week Future of the Business World online course are also given access to the 10-week Wharton GYM (Global Youth Meetup) an extracurricular programming platform allowing students to connect with Wharton before, during and after their summer courses from June 8 through August 17.
The Wharton GYM provides a combination of live and independent programming. Each program is designed around the goal of introducing Wharton knowledge to high school students.
Programming includes:
Weekly live lectures and discussion with members of the Wharton Community
10-week Summer Stock Market Challenge based on the Wharton Global Youth High School Investment Competition
Opportunities to earn badges, win Wharton prizes and compete against and with global peers
Virtual introductions to business exploration topics, Wharton research centers, and Penn's campus resources
Weekly workshops to advance communication, academic, and professional skills
Chance to connect and learn with top high school students from around the world and start building a global peer network
Admission and Eligibility
Any student who was previously admitted to a 2020 Wharton Summer High School Program is eligible to enroll, no new application required.
Applications are now open and will remain open to this course for all other students.
For more information, please contact Wharton@summerdiscovery.com or call +1-516-414-5555
Please note that participation in Wharton's Future of the Business World does not guarantee admission to Penn.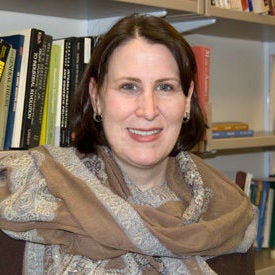 Sara Jane McCaffrey is a Senior Fellow and Lecturer in Management at the Wharton School of the University of Pennsylvania. Sara Jane's research interests include workforce skills, responses to globalization, the development of ethical markets, and corporate responsibility. Her publications include articles in Business & Politics, Business & Society, Organization & Environment, and Socio-Economic Review. In 2019, she received a Wharton Teaching Excellence Award for outstanding performance.
Sara Jane holds a bachelor's degree in foreign service from Georgetown University and a PhD in political science from the Massachusetts Institute of Technology.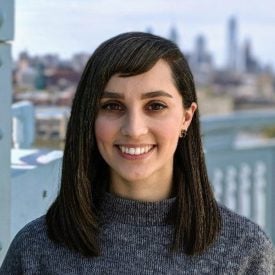 Taylor Caputo is a product designer, artist, and academic with a background in fine arts, crafts, and 3D modeling. As an alum of the Integrated Product Design Program at Penn, she now teaches the interdisciplinary Product Design course (OIDD/MEAM 415, IPD 515) and created the courses The Design of Connected Objects and Experiences (IPD 529) and Advanced Tools & Methods for Product Design (OIDD 659). She has offered design consulting to various companies such as Away Travel, Puma, and BioMeme, and has exhibited her work internationally, notably at the 2016 Vienna Design Week and 2018 Milan Design Week. A proud lifelong Philadelphian, Taylor also enjoys indulging in the city's vegetarian delights and is an avid ceramics artist when not teaching.