Regions
The Wharton Global High School Investment Competition provides students from around the world the opportunity to compete and develop their own investment strategies.
To strengthen the global aspect of the competition, teams are divided into geographical regions. The top teams from each region compete in their respective Regional Final.
Our Regional Competitions
Region 1: Eastern Asia and China
China, Japan, Kazakhstan, Kyrgyzstan, Macau, Mongolia, North Korea, Taiwan, South Korea, Tajikistan, Turkmenistan and Uzbekistan
Sponsored by [Sponsor logo]
Region 2: Southern, Southeastern and Western Asia
Afghanistan, Bangladesh, Bhutan, Maldives, Nepal, India, Pakistan, Sri Lanka, Brunei, Cambodia, Laos, Indonesia, Malaysia, Myanmar, Philippines, Singapore, Thailand, Timor Leste, Vietnam, Armenia, Azerbaijan, Bahrain, Cyprus, Georgia, Iran, Iraq, Israel, Jordan, Kuwait, Lebanon, Oman, Palestine, Qatar, Saudi Arabia, Syria, Turkey, United Arab Emirates and Yemen
Region 3: North America, Europe, Africa and Oceania
Albania, Algeria, Andorra, Angola, Australia, Austria, Belarus, Belgium, Benin, Bosnia and Herzegovina, Botswana, Bulgaria, Burkina Faso, Burundi, Cabo Verde, Cameroon, Canada, Central African Republic, Chad, Comoros, Congo, Côte d'Ivoire, Croatia, Czechia, Denmark, Djibouti, DR Congo, Egypt, Equatorial Guinea, Eritrea, Estonia, Ethiopia, Fiji, Finland, France, Gabon, Gambia, Germany, Ghana, Greece, Guinea, Guinea-Bissau, Holy See, Hungary, Iceland, Ireland, Italy, Kenya, Kiribati, Latvia, Lesotho, Liberia, Libya, Liechtenstein, Lithuania, Luxembourg, Madagascar, Malawi, Mali, Malta, Marshall Islands, Mauritania, Mauritius, Micronesia, Moldova, Monaco, Montenegro, Morocco, Mozambique, Namibia, Nauru, Netherlands, New Zealand, Niger, Nigeria, North Macedonia, Norway, Palau, Papua New Guinea, Poland, Portugal, Romania, Russia, Rwanda, Samoa, San Marino, Sao Tome & Principe, Senegal, Serbia, Seychelles, Sierra Leone, Slovakia, Slovenia, Solomon Islands, Somalia, South Africa, South Sudan, Spain, Sudan, Swaziland, Sweden, Switzerland, Tanzania, Togo, Tonga, Tunisia, Tuvalu, Uganda, Ukraine, United Kingdom, United States, Vanuatu, Zambia and Zimbabwe
Region 4: Latin America and Caribbean
Antigua and Barbuda, Argentina, Bahamas, Barbados, Belize, Bolivia, Brazil, Chile, Colombia, Costa Rica, Cuba, Dominica, Dominican Republic, Ecuador, El Salvador, Grenada, Guatemala, Guyana, Haiti, Honduras, Jamaica, Mexico, Nicaragua, Panama, Paraguay, Peru, Saint Kitts and Nevis, Saint Lucia, St. Vincent & Grenadines, Suriname, Trinidad and Tobago, Uruguay and Venezuela
Region 5: Europe, Middle East and Africa (EMEA)
China, Japan, Kazakhstan, Kyrgyzstan, Macau, Mongolia, North Korea, Taiwan, South Korea, Tajikistan, Turkmenistan and Uzbekistan
About the Abu Dhabi Global Market Academy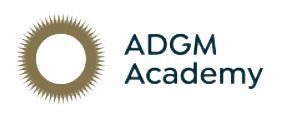 ADGM Academy is part of Abu Dhabi Global Market (ADGM), an International Financial Centre (IFC) located in the capital city of the United Arab Emirates. The Academy has been established with the vision of becoming one of the leading academies in the region, providing world-class financial research and training services.Delivering world class financial education and literacy, ADGM Academy will help to position Abu Dhabi as a leading global financial centre. This will be achieved through globally recognized educational and experiential programs on a range of topics and qualifications in banking, finance, leadership, entrepreneurship, technical and soft skills.